This post may contain affiliate links. Read my Disclosure Policy.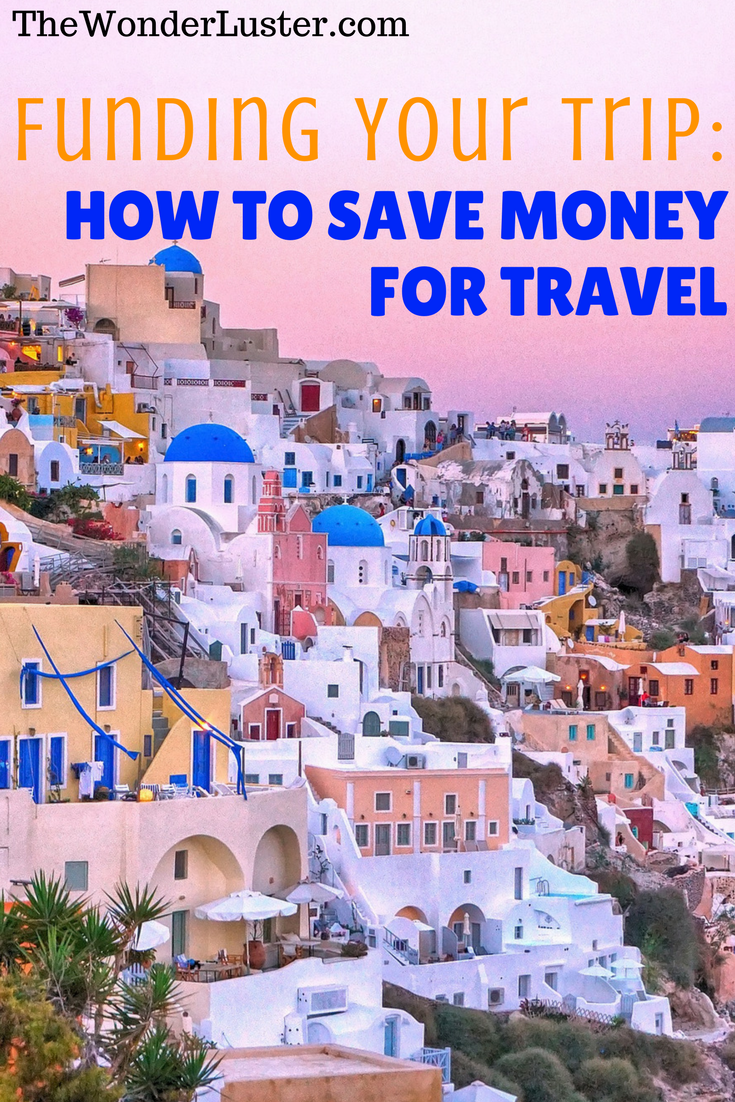 As any experienced traveler knows, trip preparation begins long before your airline tickets are bought. While Hollywood and social media create the illusion that anyone can just spontaneously drop everything and travel through Europe with just a few bucks in their pocket, the reality is this is just not possible for most of us, and we have to start saving for our trip a year or two in advance, a bit at a time.
Many of us tell ourselves that we simply can't afford to travel, but really, anyone can- even if it takes a few years, that bucket list trip could be crossed off the list!  Making some small tweaks or some habit-changing strides, you can save up without ruining your current quality of life.
If you truly want to wander the world, breathing in new experiences, you can fund your dream on your own terms.  So before you start planning your itinerary, here are some relatively painless ways to save money for travel.
Sell Your Stuff
In case you didn't catch it, I recently wrote about letting go of all the crap I haven't worn or used – and likely never will. Not only is it emotionally freeing, but it is a perfect way to raise some extra cash. eBay, ThredUp, Swap.com, and even your local Facebook swap groups are all relatively painless ways to put a few bucks in your savings account.
Just remember that you will never end up getting what you paid for an item, even if it is super nice, and you'll have to share a cut of your funds with the service you use to sell it (unless it's direct). 
While you may feel the pain of sunk costs when you let items go- you can reframe the pain of parting with these items with the idea that you'll be filing your life with experiences (and some fun momentos) from places around the world you'd previously only dreamed of.
Eat At Home
I love eating out. It's convenient, fast, and infinitely tastier than anything I can whip up. Still, compared to what you would pay for the ingredients in a grocery store, it is is RIDONKULOUSLY expensive. Usually, most of us don't stop at just one glass of wine and those little purchases do add up over time.
If you are consistently ordering takeout or frequenting sit-down restaurants, increasing how often you eat at home can help you save money for travel. Not to mention, it's usually better for your body, too. If you miss the social aspect of eating out, consider planning some potlucks with friends. I assure you that you aren't the only one looking to save money on food.
One tip I've used to make eating at home more fun is that I get a cookbook from the library and test out recipes for the countries I'm saving up for, or get a new cookbook with a theme that I can try out.  I can say at this point, I've perfected enchiladas verde, though anything French is still a challenge!
Ditch the Booze
Eating out's partner in crime is oftentimes alcohol. Whether you are spending a little too much time at the corner bar, or hauling home a few too many heavy brown bags from your local liquor store, alcohol can eat up a huge amount of cash.
Now, I'm not saying you have to totally give up enjoying a glass of wine or a brewski, but cutting back will get you to your next travel destination faster. You have to think to yourself "would I rather be drinking here or on a beach in the tropics?" It is about priorities, folks.
You can still drink, but have people come to your house and host at home.  A bottle of wine costs as little as $8, but usually that's the price of even a crappy glass at a bar.  I love me some vino, but for the price of a few glasses out, I can have a night in with friends and a kick ass charceuterie board so I at least appear to be classy when I'm cutting costs. (And again, you can theme your at-home night…maybe try Spanish tapas or learning to make your own sangria.)
Live Consciously Around Your Values
I used to think I could never survive without cable tv. But when I actually sat down and considered if I needed it to be happy, the answer was a big, fat no. Instead, I invested in an indoor antenna for local channels, and an Amazon Fire TV Stick, which allows me to stream Netflix, Hulu, and similar. Once I made the transition, I realized cable tv was eating up not only my finances, but my time. Honestly, when was the last time you took an inventory of how much TV you watch? Is that valuable time? If so, awesome, if not, realign to your time to reflect your values.
I had to take a hard look at my TV time.  Now, I find I have more time for things I truly love like crafting, volunteering and earning cash on the side to fund my travel projects (as we will get to below.)
I've also gotten rid of my gym membership in exchange for a cheap at-home gym I put together with some kettle bells and yoga mats.   Same goes for the subscription boxes I used to receive. Instead, I just purchase them when that month's box looks particularly useful or on special occasions, like for my birthday. When you spend on auto-pilot, the purchases aren't as impactful.
Rent Out Your Space
Have some extra space in your abode that you don't mind sharing on occasion? Then I highly recommend getting set up as an Airbnb host. Hosting Hurricane Harvey evacuees initially gave me the push I needed to give renting out our guest room a try, but it has really proven to be an awesome way to make some extra bucks.
I'm making hundreds of extra dollars each month, which makes me feel a bit better about purchasing this train wreck of a house. You can learn more about hosting on my other blog, Frugal Beautiful.
Alternative Transportation
Owning and maintaining a car is exssssssssspensive, yo! Now, I totally realize and acknowledge that for most of us, ditching the car altogether is not realistic. That being said, reducing how much you use it can absolutely help you save money for travel. And depending on the public transportation available in your area, using the bus or train more often can add to your fund. You can also bike to your destination or find a carpool buddy.
Lastly, be sure to evaluate your insurance policy on a regular basis. You may find that you are seriously overpaying. Can an umbrella policy help save costs between your home and car insurance, or do you need to get a quote for a new provider?  Do this once a year and you may be surprised at the savings, while also ensuring the coverage fits your needs.
What are you doing to save money for travel? Comment below!