If you're like me, you often look at your closet with a sense of regret, disgust, overwhelm or frustration. You either have guilt you spent so much money on stuff you don't wear, feel like your organization is out of control, or lament how much time you spend getting ready.  Who knew that getting dressed could be so emotional?
I recently was introduced to the concept of sunk costs.  It's a concept I think we all know really personally, but didn't know there was a name for it.
Essentially, sunk costs describes the emotional weights we feel when we've spent money on something we have regrets over, and either a.) keep it around regardless of its usefulness since we paid for it and feel we should or b.) keep spending money on it since we've already come this far and are afraid to stop now.
You know all about sunk costs whether you realize it or not- since it's not just with stuff we buy, but with any sort of investment we make in time, money or hopes.  It could be the fear of loss you feel surrounding a relationship that drains the crap out of you, but you've already put so much time and money into making it work you don't want to give up now.  Or, it could be a gym membership you never use, but know you should, yet the guilt doesn't change your behavior, and you keep sinking cash into the membership out of guilt or telling yourself you'll "use it someday" to make it worthwhile. The fallacy portion of this, is that when we have sunken our time and money into something, logically it would be best to let something go, but for emotional reasons, we don't.
Letting Go Of Not Just Stuff, But Expectations You Have For Yourself:
Years ago, I started purging my Instagram feed because I didn't like the feeling of FOMO (feeling of missing out) I always had after scrolling. There was always someone with better photos, well manicured hands and beautiful homes that made me feel crappy about myself.  After I stopped telling myself I shouldn't feel insecure and keep triggering the response, and instead, embraced my feelings without judgement or "shoulds," it was clear I needed to change the stimulus.
Simply realizing that my environment was a legitimate source of stress and then giving myself permission to let it go was incredibly freeing.
In 2017, we moved from our apartment to the house we have now, and while I had already done a major purge the year prior, I didn't have any emotional energy from the home buying experience to go through my closet and my cupboards. I simply shoved just about everything in a box and moved across town into our little abode.
6 months later, I walked into my closet and could feel my chest tighten.  There was stuff everywhere and it was overwhelmingly stressful.  I suddenly had a choice: I could spend hours managing the stuff I have, or, I could simply let things go and purge all but the essentials.
It became clear that coming up with better systems to manage the stuff would not solve my clutter problem. More storage bins, hangers and shelving wouldn't change the fact that my closet was a blur of wishful thinking.  I had dresses that no longer suited my style, shirts that never seemed to get worn, and plenty that wouldn't get worn but I had spent money on it and was reluctant to let it go.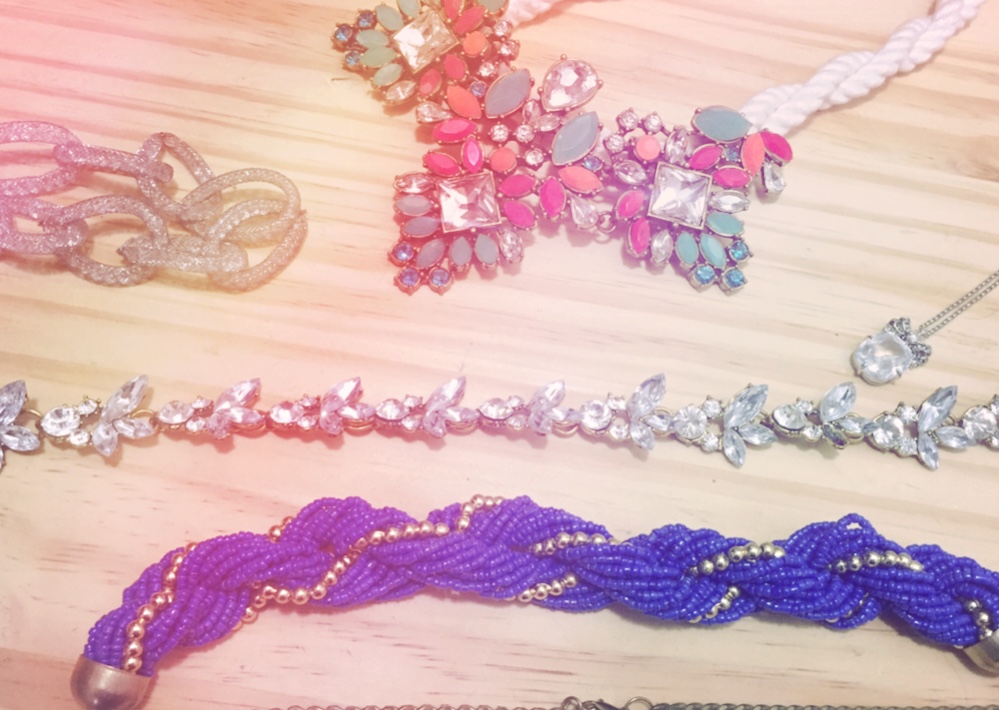 Jewelry I spent money on, and haven't worn for 2 years, through 2 moves and yet, didn't want to get rid of. 
Yes, Your Stuff Cost You Money, But What Is It Costing You Now? Time To Let It All Go.
Just thinking of how to sort all of this was exhausting.  I had to confront the emotional baggage of sunk costs.
The funny thing about confronting your "shoulds" and the guilt of money you've spent on things you aren't using, is that the things still won't get used to justify the money while they're hanging in your closet. We put the hanger back time and time again, and insist we keep the money on our back time and time again.
OHIO – Only Handle It Once:
It works for tackling emails, works for clothes.  If you're really struggling to part with clothes you think you'll "someday" wear, think back at how many times you've had the same conversation in your mind about the same piece of clothing, chances are this isn't the first time.
Stop playing the tape on repeat, get rid of it.
If you've put it back once, thinking you'll wear it later, chances are this isn't the first time you've struggled with whether to keep it.
My wardrobe now is Steve Jobs-esque. Literally, you will find me at any given time in a black shirt, jeans and generally, black shoes. Swap that out for seasons with a tank top versus a sweater and you have my general formula.
Not having to make this decision every morning as to what I want to wear means I have more headspace in the morning to play with the dogs, stretch, meditate or listen to a podcast while I get ready. I honestly don't find joy in giving my clothes any thought or planning on how I could get compliments at work, I just don't really think that's a thing I want to do with whatever headspace I have left.
It was then I realized that I had a whole lot of stuff – old half marathon shirts that were ragged, cute spring dresses that no longer fit my aesthethic, statement jewelry from two years ago…and a whole lot of heavy "sunk cost" guilt.
I literally have 3 navy dresses that I've worn to every single wedding I've been to in the last 4 years.
Dress shopping stresses me out. Go with what you know, skip the rest. 
Believe it or not, you don't have to be a martyr to spending you made previously.
Keeping things that no longer serve you does nothing to make a past choice more valuable.
Much like Mrs. Frugalwoods has detailed in her 2.5+ year break from fashion, when you stop caring about being fashionable, it frees up a lot of emotional as well as physical space in your life.
You actually feel more confident simply because you stopped caring about what people are trying to sell you.  Keeping up with the fashionable Joneses is a race we never win.  It will always be a new season, a new product and a new need that marketers tell us we need to have.
Have you ever considered removing "being well dressed" from your consideration set?  Often our pursuit of perfection does just the opposite, it makes us feel insufficient, not-quite-right and definitively robs the joy of the person we are now, the person who is gloriously "in progress."  When we're chasing something, we can't enjoy the now.
Removing self-limiting labels of "being fashionable," has increased my confidence.
It seems kind of crazy to think that we can free ourselves by simply not participating, but it's true. I simply stopped caring and it's increased my confidence and overall satisfaction with life.
When you stop measuring yourself by someone else's yardstick, you see just how well you measure up all on your own.
Oh, plus selling things generates income, so that lessens the guilt…that's what I will be doing. I'm doing a lot of letting go, but if I can make a few bucks, all the better!
I'll be selling a lot of my Kate Spade bags.  Those bags were from a previous style and a previous life.  I still absolutely adore color, but I've found that I've used the same 3 bags with regularity for the past 3 years.
I have a tan and black Kate Spade tote for work and a gorgeous leather tote from FEED- it's time to let it go and besides, I want the monies!  I will let you know how it goes.
How are you freeing yourself from fashion-related stress and spending?