This post may contain affiliate links. Read my Disclosure Policy.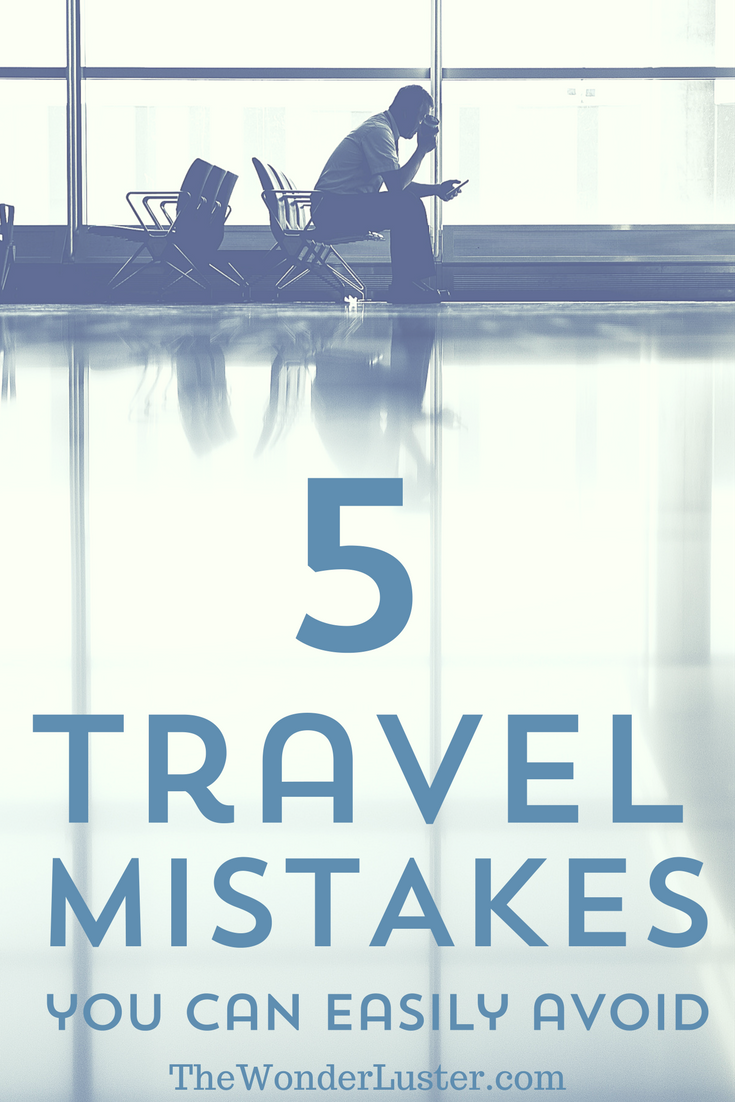 Hey Lusters! If you've had a chance to peek at the travel section of this blog, you know that I have taken quite a few domestic and overseas trips. Unfortunately, I still run into my share of travel problems and I make plenty of mistakes. Each trip is a unique and potentially frustrating puzzle – with numerous moving parts – making for some complicated planning. It's not hard to mess up.
I've found that I can usually avoid most of the potential mistakes that traveling can pile on you when I remember the following 5 preventable travel problems. I'm hoping they will save you some money and heartache!
Neglecting to Shop Around
I love myself some Airbnb, both as a lodger and host. You can potentially find some wonderful accommodations in the center of your destination, at prices usually better than hotels. This is especially true if you're looking for certain amenities like a kitchen, extra bedrooms, etc.
Unfortunately, I've realized that using Airbnb can be stressful when you're in a country without a phone or easy access to Wifi. This is especially true for me as I rely on internet access for my blog and work. So I recently came up with a good compromise: bed and breakfasts. They're much more likely to have necessities like wifi, but you save money while still enjoying the local flavor.
You can always check out hotels that are a little ways off the beaten path, too. But, the moral of the story is to shop around.
Packing Too Much
I get it, the thought of being without a necessity while you're far away from home is nerve wracking. But if you're a terrible packer like me and always haul way too much crap around the world with you, you probably realize by now that you NEVER use all that you bring. So pack those extra pairs of undies, your meds, and some good walking shoes, and stress less about the rest.
Plus, if you love bringing home souvenirs, you need extra room in your bags. If you want to buy that gorgeous, handmade rug or a gift for your mama, make sure that you pack light on the way there. Shipping things back home blows any money you saved by buying locally, especially if you're abroad.
Not Taking Advantage of Credit Card Perks
Credit cards are useful for more than just big purchases and points. Case in point: travel insurance. Many cards offer basic travel insurance coverage, including delays, cancellations, and more. Some also have rental car insurance.
If you're traveling overseas, you will also want to bring cards without foreign transaction fees. When you're purchasing meals, lodging, tours, and souvenirs, those fees add up quickly. So check with your credit card companies and if you don't have a card that offers these perks, consider signing up for one.
Forgetting Your Faults
Do you have a hard time sitting still and relaxing? Then booking a tropical vacation where you lay on the beach all day may not be the smartest choice. On the other hand, if you get stressed in crowds and big cities, you might want to avoid traveling to Paris or Rome.
When you hear the hype of all the "dream" destinations, it's easy to forget your quirks and preferences. But what's the point if you are miserable, anxious, or bored out of your mind? So don't be afraid to book your trip around your personality, even if that means skipping the major sights. The more you travel, the more you find out what kind of trip you actually enjoy.
Hidden and Forgotten Expenses
When planning a trip, it is so easy to forget to budget one or two expenses. Case in point, I recently parked my car at the airport as I was taking the red eye and didn't want to bother my friend or partner with driving me. Unfortunately, I forgot to budget for that expense. Granted, it was only $75, but a few of those "oopses" really can add up. If I had used half my brain, I probably would have avoided that unpleasant surprise.
Let's hear from you! Are there any other easily avoidable travel problems that you do your best to remember when planning a trip?