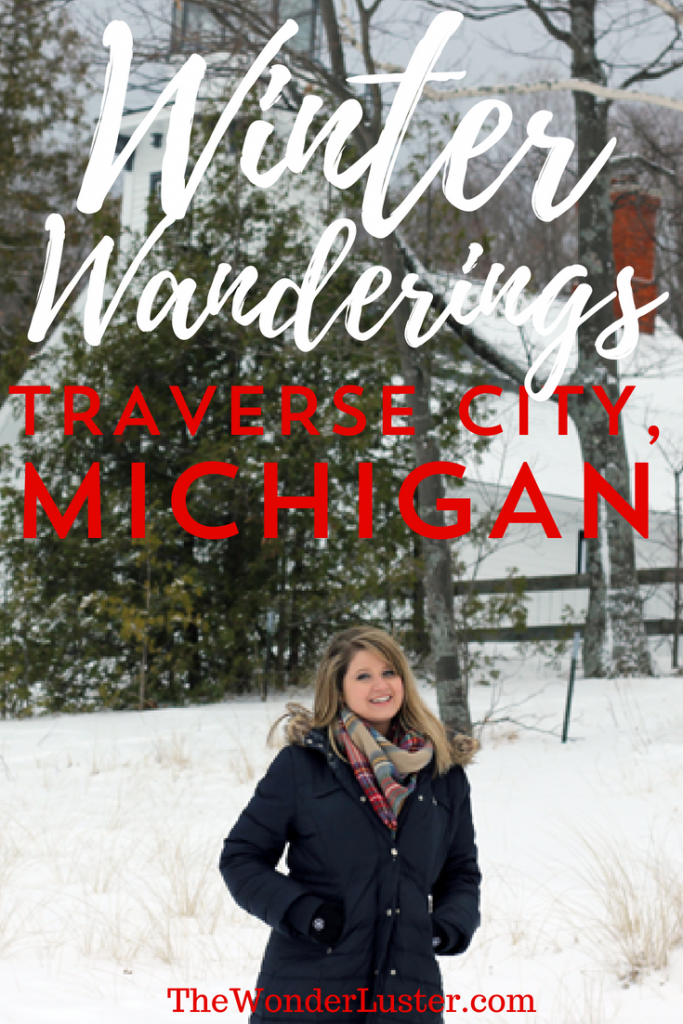 Winter sucks, everyone hates it, which is exactly why it's the perfect time to bust out of your cave and go exploring.  As much as I love an excuse to binge on Netflix when the weather is nasty, I had a case of wanderlust this winter and was dreading being trapped inside all season long.  A friend mentioned that I should take a trip to Traverse City, Michigan and when I learned that the city is still in full swing all year long and there were a plethora of fun wineries to visit, I was booking travel a few minutes later.
I got to stay at the Grand Traverse Resort & Spa (see my review) which is a 4 seasons resort and caters to a variety of crowds.  The photo above is the view from our room. I can only imagine how gorgeous it is in summer and fall!
Over the weekend, I toured the peninsulas of the area, stopping by a historic lighthouse, hopping from wineries to Jolly Pumpkin Brewery and then back to the resort for some much needed TLC spa time and of course, a wee bit more of Michigan's fabulous wines.
Being from the wine country of California, Grand Traverse felt like home….albeit a snowier version of the rolling hills of California, and I was very happy that I got to experience such a vibrant part of Michigan in the winter. Truly, it may be chilly, but this city has plenty to do no matter when you visit.
Traverse City lends itself to relaxing wanderings.  While there we stumbled upon the coolest things- sleigh rides, dog sledding, wild game four course dinners, wine tasting and snowshoeing.  Best part of all of this? Most activities happened on, or near a gorgeous winery, which meant you could get some activity in, and still get something nice to sip on afterwards.
While trekking to one of the historic lighthouses to take pictures, we stumbled upon some fun sleigh rides and discovered that Jolly Pumpkin Restaurant & Brewery was a stone's throw away. I knew there were a ton of wineries in the area, you can easily meander around Traverse City without a set plan and still find dozens of wineries to do tastings, but Jolly Pumpkin was an amazing find.  I've enjoyed their beers and had no idea they we here, it was an exciting surprise!
In between wineries, we stumbled upon Jolly Pumpkin and stopped in for a pint.  I met some nice midwest beer aficionados and lusted over the Jolly Pumpkin Mug Club. I wish I was that cool…and I really, like, really, wanted one of those mugs for my own.
I have no idea if this nice guy knew he'd end up on my blog (but I did ask him for a photo since he embodied the culture here), but this is Tito.  We chatted about breweries in the area, and I am totally sold on coming back in the summer and visiting other breweries in the Grand Rapids and greater Michigan area- he told me that Shorts Brewery is a must.  Noted.
Also, there was dog sledding at Bowers Harbor Vineyards. Yes, Dog sledding.
Bowers Harbor Vineyards was hosting dog sled rides as a fundraiser for a local husky and malmute rescue.  The ladies hosting as passionate about the breeds and were braving the temperatures to give dog sled rides.
For $15, you could sled through the gorgeous hilly landscape of Bowers Harbor Vineyards and take in the sights. Truly, it was an experience worth $30+ so that's what I donated, the dogs and the volunteers were amazing!
I cannot tell you how many times we stumbled upon cars with huskies inside. It happened several times and it was hilarious.  I had to take pictures- you cannot see that there were 5-6 more dogs in the car, but it was awesome.  It was like a clown car full of huskies….never thought I'd see that!
Dogsled rides for charity at Bowers Harbor Vineyards.  Yes, it was as awesome as you'd think!
Yes, there were so many wines and ciders to try throughout the day.  Traverse City, Michigan really is a fabulous destination for the thirsty in any season.  Being a California girl, I can tell you that Traverse City gives Napa a run for its money, and best of all, you don't need to spend nearly as much to have an amazing experience with world class food, memorable experiences and lots to sip on.
After two busy days that passed by wayyyyy too fast, we meandered downtown to explore some of the shops and restaurants.  There are lots of little spots to check out in downtown Traverse City as well, I wish we'd had more time to explore some of the local flair in the downtown area.
Traverse City, Michigan is a colorful and gorgeous part of the country- even in the deep weeks of winter.  Wineries, spas, adventures and good food make this a spot I want to go back to again, there was so much I didn't get to see!
I am in love with Michigan and really want to explore the areas around Illinois much more. Honestly, if you want to visit gorgeous wine country and can't swing a ticket out to the west coast, Traverse City has something for everyone and plenty of great wines to try for every taste.
Until the next adventure, safe travels!
Have you been to Traverse City? Where should I head next?