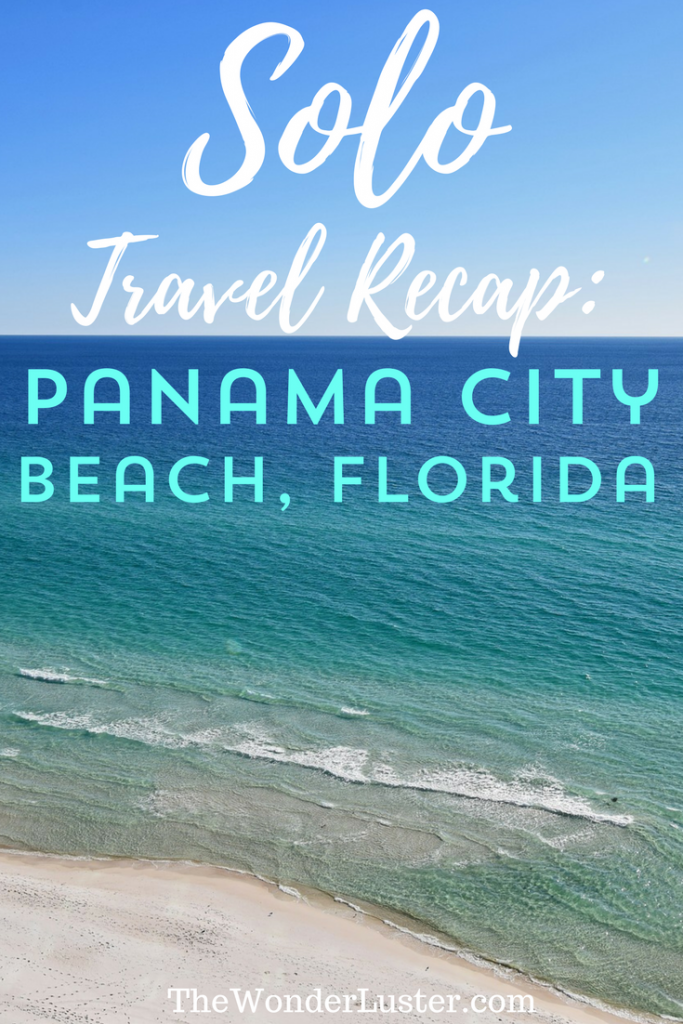 Panama City Beach, Florida- have you ever been?  It's a colorful beach city that's got something for everyone. While it's known for being family friendly- it's fabulous for singles and solo travelers as well.  I headed down for a weekend respite, to try some piña coladas, work on my tan and see what the area had to offer.  Some of the highlights that I'd recommend-  Pier Park, Panama City Beach Winery, the Dolphin and Snorkel Tours with Captain Lorraine and the Panama City Beach Farmer's Market…though trust me, there's more to do than just that- but I had a blast exploring.
 I stayed at the Holiday Inn Resort in Panama City Beach, and while it's great for families- with direct access to the beach and a water park area for the kids to play in, there was plenty of space for the adults to relax and lay out without kids crawling everywhere.  The bar made some delicious piña coladas, which you could carry out to the shore- where of course, the water was unreal.  The water was warm and crystal blue, and the white sand beaches were so fabulous.
At night, you could even lay out and watch a movie by the pool- they provided free popcorn and it was so relaxing to dip in the jacuzzi before bed, and then maybe pop over for a few minutes of Frozen or whatever family friendly flick they had playing that night.  The whole pool area sang along to "Let It Go," and it was a cool way to unwind when I flew in!
The Dolphin & Snorkel Tours were a highlight of the trip- honestly.  The Captain runs her own business, offering really fun and approachable tours.  You'll explore Shell Island and get a chance to dive in with snorkels for everyone on board. Oh yes, and there's snacks. I heart snacks.  We saw a ton of dolphins on this tour, and we even got to dive in for some exploration of the ecology.
Captain Lorraine was great- and it's really awesome to support locally owned and woman operated businesses, she was a kick-butt captain!  Everyone on board was given snacks, snorkels and a really fun and laid back tour.  I got to jump in the water and use her underwater camera, which was really cool and explore the manmade reefs at her secret and favorite snorkeling spot  We got to explore local ecology- seeing sea stars, urchins, crabs and of course, we saw a ton of dolphins.  Like, really…so, so, so many dolphins!
The local farmer's market takes place on the weekends and there are some great vendors.  I swung by en route to the Dolphin & Snorkel Tours, and grabbed some soap to take home, and some artisan crafts.  I wish I could have picked up some of the okra and cucumbers to munch on, they looked so fresh!
One thing that came highly (and I mean, highly) recommended on TripAdvisor was to check out Panama City Beach Winery– which doesn't have your typical "wine." All the wine here is made from fruits- so no grape wine with added extracts- the passionfruit wine is made from passionfruit.  The kiwi wine is made from kiwis.  The strawberry wine is actually made from vats of real strawberries.  I had one, that was a coffee orange blend and oh my goodness was it good. They even gave you little dessert samplers to pair with the wine and it was all free.
Yes, you read that right – the wine tasting was free and it was probably one of the most memorable I've had!
This, coming from a girl who lived for 25+ years in California, the Panama City Beach Winery is a must see.  MUST.  I tell you, had I had a suitcase to bring some back, I would have picked up my fair share of wines, they were unique and so delightful.  I was floored at how vibrant the flavors were, and the variety they had- pretty much any fruit wine you could think of, they had.  Also, you know they're good when they have hundreds of TripAdvisor.com reviews and they are the only winery invited to the Food & Wine Festival at EPCOT for like, 14 or so years.  Please, try their wine, it will blow your mind!
The wall is lined with prize winning, heavily decorated and taste tested wines- and I can tell you why, they're so unique and taste amazing!  I wish I could have stayed there all day!
Pier Park is great for the shoppers out there who love southern charm and mid to upscale shopping. Here, you can scope out southern brands that I adore- Lily Pulitzer, Vineyard Vines and Southern Style.  Charming, comfortable and cute- that's Pier Park.

I picked up some italian ice and some ice cream while I was there.  You can also ride around on a scooter or hop on a carnival ride while you're there, but I was just a happy participant and I enjoyed walking up and down the park with ice cream in hand and people watching. Of course, I had to stop in and peruse Lily Pulitzer and a few other spots… had I had more room in my luggage I might have gotten into some (fabulously styled) trouble!
Panama City Beach is a great destination for families, but it also has wonderful spots that couples or singles can enjoy as well. I flew down solo- and I felt safe, comfortable and welcomed everywhere I went.  The beaches are absolutely stunning- honestly, some of the best in the gulf (and some would argue, the best all around!), and you will seriously enjoy a few amazing days and nights in Panama City Beach.   If you want a beach town with southern charm and some beaches that are guaranteed to make you unwind and get some deliciously relaxing vitamin D, you should consider a visit to Panama City Beach for your next vacation!
This is a sponsored conversation written by me on behalf of Panama City Beach via Rhythm One. The opinions and text are all mine.