I have been in the Midwest for about four winters now.  I count them, because winters are tough and I'm from California- so you can imagine, this snow thing has always gotten the best of me.  Typically, when referring to this time of year, I quote Game of Thrones, "winter is coming," and shudder to think of the end of life as we know it- when winter hits.  Like a grumpy bear, I have given into cave dwelling and avoiding the outdoors in favor of more Netflix related adventures.
This year though, I decided it was time to do things differently in winter, it was time to adventure.  What better place to venture out during the snow season than the gorgeous area of Traverse City, Michigan?  I had never been to Traverse City previously, but friends had told me it was gorgeous.  Many had ventured over in the summer, during it's peak tourist season, for the Cherry Festival (where the population quadruples in size so I've heard), and while some of the sidewalks roll up for the off-season, there is a LOT to do in Traverse City.
For a midwest staycation with lots of perks, I looked into the Grand Traverse Resort and Spa.  It catered to all of my winter-bear tendencies; on site shopping, several restaurants, spa treatments, pool, sauna, and a full gym- with classes like spin!  Yes, I could embrace my inner bear and never have to leave the cave unless I wanted to- the resorts logo? Also a bear.  Yes, I would feel right at home.
In the summer, the Grand Traverse Resort and Spa boasts one of the best golf courses in North America and regardless of season, it's really close to amazing vineyards, breweries and gorgeous hiking trails. Honestly- even in the dead of winter, this is pure Michigan and it lives up to the hype with gorgeous scenery no matter the season!
By far the best beet salad I've had in a long time at the Aerie at the GTRaS. Who else loves beets?
During the first night at the Grand Traverse, we headed up to the Aerie, a gorgeous restaurant on the 16th floor that overlooks the landscape.  The food was pretty breathtaking too.  I wanted to try a local wine- and chose a bottle called Sex.  Yes, it was called Sex, and the best part? It was a rosé, so it made me BLUSH when I ordered it, ha!  (See what I did there?)
I heard from a local, that the vintner had issues with the local naming board and submitted several names which got rejected.  He submitted "Sex," just to get back at the committee, and was shocked they approved it!  Yes… there are many fun stories like this for a fun part of the state!
We enjoyed a wonderful array of small bites, butternut squash soup, beet salad, and filet that was delectable.  When it was time for dessert, we were absolutely stuffed, but made it a point that if the food was this good, we need to return to the Aerie to try their desserts!
The next morning, we headed out to the gym and the pool- which is massive by the way!  The gym area boasts tons of freeweight machines, an array of treadmills and several tennis courts in addition to an area to take classes or swim laps.  It was really much bigger than the picture lets on, and I honestly wish I'd had more time to enjoy the facilities, the classes looked really fun.
Two indoor pool areas that really make this resort fun for all four seasons!
The entrance at Spa Grand Traverse.  Those robes were to die for.
Also? OMG the Spa Grand Traverse.  To circle back to my bear-like tendencies in the winter…I was really excited that the resort featured a full spa. They have hair, nail and spa treatments available and we were pampered with the most amazing spa renewal session.  To quote the website, "This indulgent and deeply relaxing treatment begins with an aromatherapy infused Vichy shower, incorporating a scalp massage, along with the relieving and calming benefits of wild birch and wintergreen grown in Northern Michigan. And followed by a relaxing massage, which combines hot stones and our Spa Grand Traverse signature massage oil. Finally, while you drift away in a warm linen wrap, your therapist will provide you with a soothing neck, scalp and face massage."  It was 100 minutes of spa session bliss….hot stones, shower and aromatherapy. Hot stone massage=glorious in winter.  
Yes, yes and yes. It was all of those things for 100 minutes of winter-escaping heaven, and afterwards, their lounge area was absolutely fabulous. The spa lounge area was fully stocked with complimentary Tazo Teas, granola bites, coffee and infused water.  You also have the option to sit by the fire and order food or adult beverages…so essentially, you would never have to leave. Yup.
Okay, then there was shopping. I don't know if you've seen Mudpie products, but they have the BEST stuff. Many stores and boutiques will carry a limited selection of Mudpie home accessories or baby clothes- but the Grand Traverse Resort and Spa is home to the only full store of Mudpie products and yes, that wreath on the door would have been mine had I been able to get one with an "S."  (Yes, I could do an A for my last name, but what if it changes someday? Decisions, decisions.)
Someone buy me that wreath..and everything else in the store. I had to pass by this shop every time I went downstairs, it was fabulously tempting.
There's also a delicious candy store where kids and grown ups can have fun with a good old fashioned sugar rush.  Dylan's Candy Bar is located downstairs near the lobby with the other shops, and it was a real treat (pun so totally intended).
Dylan's Candy Bar was totally adorable. The bar stool inside look like peppermints.
Then, I continued my shopping to buy some of the coziest mittens I've ever found from Pistil.  I also bought that hat.  When you are in a state shaped like a mitten, you must buy mittens.
Unlike other resorts I've stayed at, this array of shops well suited for families and was stocked with really good quality stuff- you can find brands like Smart Wool, Pistil, North Face and more.  I was happy that the shops boasted much more than just your typical tourist stuff.  With a full candy shop, toy store, and really quality clothing options, if you found yourself chilly, you would not be stuck with a frumpy tourist sweatshirt.
Of course, I purchased an oven mitt from American Spoon, because again, we were in "The state shaped like a mitten."
I am a huge fan of Traverse and of the Grand Traverse Resort and Spa.  Honestly, coming in the winter was wonderful- and it's a great getaway for any season.  If you're hoping to have a relaxing vacation and you'd like a place that is centrally located amongst some gorgeous vineyards, cute shops and gorgeous views (which are all still open in winter) but still has enough to do in the resort so you can stay put if the weather is nasty, I loved the Grand Traverse Resort and Spa!
Read more about my fabulous trip to Michigan here.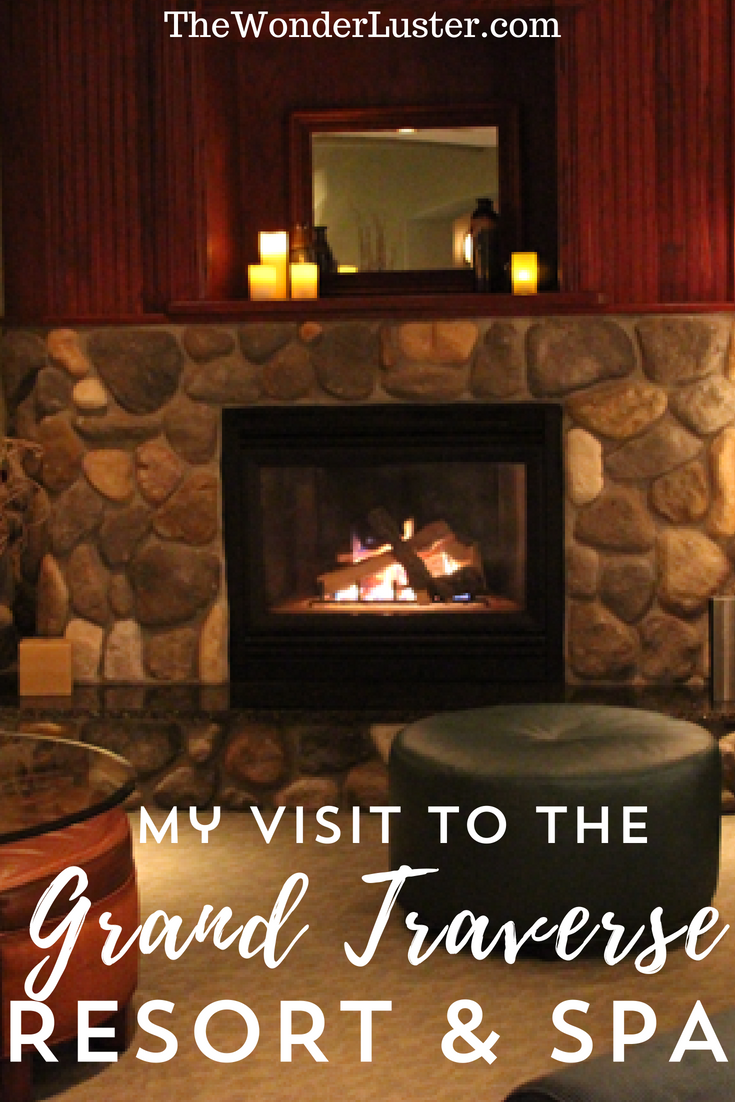 The Grand Traverse Resort provided me with accommodations as a media guest.  No compensation was received as a part of this review.