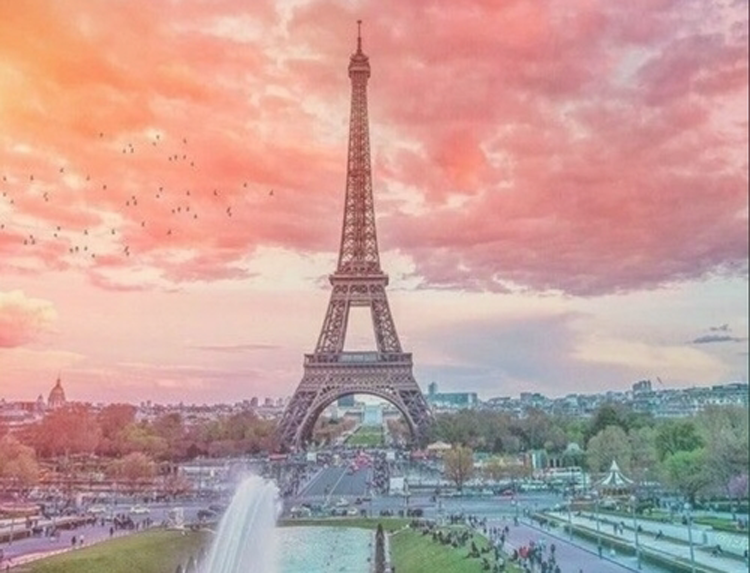 When we're in our 20's and 30's we're told to both live it up while we're young but also be smart and save now so your future golden years are awesome and secure.  If you're like me, you often felt conflicted on how to simultaneously do both.  You want to scale the Great Wall of China while your knees are still with you but of course, ahem, student loans. 
Most of us have things that are tugging on our heartstrings, those little nagging, lingering ideas and dreams we have in our hearts, that we will surely tackle someday when we have the time and the money.
Most of us know though, that when it comes to achieving our dreams and crossing off items on our bucket list, there always seems to be something in the way- usually it's something about poor timing with work, and finances. We can't make the time, and we don't have the money.
So, how do you afford to travel when you're young? 
I've had Paris in my mind for the last three years.  For whatever reason, the Eiffel Tower went from an iconic piece of pop culture to a thing I simply had to see and experience for myself.  I have a feeling it was the moment I saw my longtime friend Lindsey post a video of her trip to Paris, with the LED lights sparkling at night on the tower, like the most amazing glittery torch to the heavens I've ever seen.  It may sound silly, but seeing her post on Facebook took my breath away.
After that point, Paris stayed on the back burner of my brain.  It then seemed everyone and their mom was going, and my feed was filled with pictures of France and I lusted.  I knew that I couldn't afford to go, since Paris was one of the most expensive destinations to visit- but surely I could start down a path towards a trip to Paris.
If you want to start making headway on your bucket list, but feel you'll never get there, I invite you to play the long game- little efforts pay off big time and you won't feel the pinch as hard.
Interested? Read what I did to make my bucket list trip to Paris happen-
Factor One: I Made The Choice To Save $2 A Day
Almost years ago, in June 2016, Paris was a faraway dream and seemed impossibly expensive.  I figured it wouldn't hurt to start an automatic savings withdrawal from my primary bank account to a secondary bank account that I didn't log in to as frequently.
I set up an automagic (it's like automatic, but better) withdrawal form my primary checking account of $2 a day- so every week, on Friday, my account would take $14 out of my primary checking account and send it off to a checking account at another bank I set up for saving.
As of this writing, I had $1,253.49 saved for Paris in a separate account.  That sum was $2 a day, and was small enough that I didn't feel it out of my paycheck, though I will be honest there were some really lean times I was tempted to dip into it. Like, super tempted.  In fact, after a tax hike and some problems, I did dip into it a bit, but was still able to cover my airfare and spending money for food.
At home, I cut my food budget dramatically by using the Instant Pot and approached cooking at home as skill building, not deprivation.  Making savings about trying new things, not the pain of cutting back, helped me reframe my savings as a way to learn & be scrappy- not a pity party of not being able to eat out.
Not all of my new dishes were very good- in fact some were friggin' laughably awful (like when I used cream de cocoa instead of coconut cream and my rice dish was sickly sweet), but I really enjoyed cooking food from all over the world, and it make my $14 a week even easier, especially when unexpected expenses with our house made savings really tight.
Factor Two:  I Set Up Fare Alerts & Waited
After I had about $900 saved up, I went on Kayak.com and set up fare alerts so I could get a feel for cost and flight times to Paris. I'm not a super savvy traveler, having only been to Europe one other time- so I would just pop into these emails when they came up, to see what kinds of deals I could snag, and what length of flight times were even possible from San Antonio (as some of the ones I'd seen were 18+ hours, no thanks).
If you're like me, the idea of pulling the trigger on a big trip like this can be overwhelming.  How do you know if you'll get a good deal if you're not super well travelled?  Well, since you're already saving $2 a day, you have plenty of time to watch and wait.
Needless to say, I took the overwhelm out by approaching my trip planning a bite at a time. First, I booked the flight.  Then I handled the hotels.  Then I figured out the day trips.  Even if you don't use travel rewards (which I get into below)- your flight and hotels really determine the overall cost of your trip.  Nail those down (or cut costs when possible) and the rest of your budget & travel schedule fall into place.
Maybe you're a super savvy traveler, but I'm not. I dream of travel, but it quite literally is a foreign process for me.  I saw a few good deals before I had $1000 saved up, usually around $700 from Texas to Paris, so I started to get a gauge as to what to expect. While I waited, I read some good books (links below) to get inspired on how to make travel work with my budget.
If you've read anything about happiness, often the anticipation and planning has just as much emotional payoff than the actual thing you're lusting for- so enjoy the wait best you can and soak in your trip before you even leave for the airport!  I binged on French movies, read up on Parisian history and pinned some delicious foods to try- it made the buildup even better.

Factor Three:  I Started Travel Hacking & Opened Credit Cards With Big Bonuses To Rack Up Points
One crappy thing about buying a home, you have no money because you're spending it all on repairs, accessories, equipment and landscaping.  I wrote before about how much I spent on house stuff after we moved in, it really sucked, but, I was able to use that spending to hit the bonus minimums to trigger an influx of sign up bonuses, usually around 40,000-50,000 points every three months per card.
If you have a dream trip, you can fund it entirely on rewards points to spend on airfare and a hotel FOR FREE.  Seriously. 
We quickly racked up about 240,000 points which more than covered all of our hotels for two weeks in Paris and Barcelona, plus excursions and had enough left over to cover a weekend stay in New Orleans at our favorite hotel- with points to spare.
Travel hacking was another factor of this trip that was overwhelming at first, but I just took it a step at a time.  Travel hacking allows you to rack up points that can be redeemed for free hotel stays, flights and excursions by opening up credit cards strategically based on their point bonuses.
Of course, I paid off my credit cards every month- since a 15-18% interest rate is NOT worth the points.
We could have also booked our airfare on points, but I just couldn't replicate the same $600 deal I found on Kayak, so I paid for that in cash, but got 3x points for it (since you get 2x for booking travel), and used the nearly 4,000 rewards points from the airfare to cover our Skip-The-Line Day Trip to Versailles.  Not bad!

It's one of those things that as you get more comfortable with travel hacking, you can decide what's better in cash or what's better on points.  For this trip, the airfare was an unbeatable deal, but the hotels and excursions (like a day at Disneyland) were break even between points and cash, so it was an easy use of our point surplus!
I have a whole page that I'm building out to help others start travel hacking- How I afford to travel for free or cheap with travel hacking.
I was super overwhelmed about it when I first started, but with responsible use and some planning, you can get to travel for free or cheap.  Honestly- I would not have been able to afford two weeks in Europe without travel hacking (food is expensive in Paris!)  in conjunction with saving, but if I could figure it out, anyone can.  There are so many travel bloggers out there that also do this, I had to try it for myself and I'm glad I did.
As of this writing, I'm happy to report that Paris happened and it was amazing!  We were able to book amazing tours, a super fancy hotel next to the Arc de Triomphe for Valentine's Day all on points.
It was on the top of my bucket list for YEARS and I'm happy to report I was able to visit Versailles (for free!), the Eiffel Tower (for free!), Disneyland Paris (for free!) and take a private tour of the city with dinner (among other things!) for free all booked on points.
Seriously, it can be done.  Your dreams can come true on any budget if you're creative and plan ahead.  First, dream.  Then, save.  Pay your credit card bills on time and build good credit.  Get creative on your spending and rack up some points (without going overboard) with travel rewards points.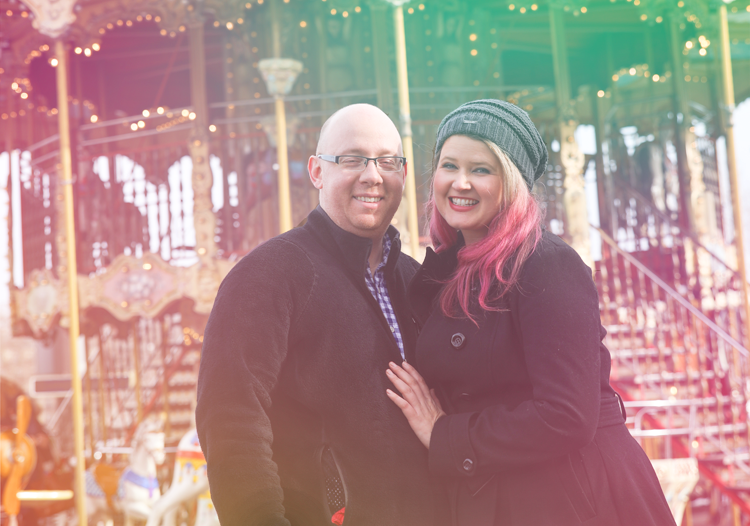 Super Helpful Resources That Helped Inform This Post (& These Links Help Save For My Next Trip!)
Travel The World On $50 A Day by Matt Kepnes – http://amzn.to/2HrdoIi
What I Was Doing While You Were Breeding: A Memoir by Kristin Newman – http://amzn.to/2C5Y2tB
Instant Pot DUO60 6 Qt 7-in-1 Multi-Use Programmable Pressure Cooker, Slow Cooker, Rice Cooker, Steamer, Sauté, Yogurt Maker – http://amzn.to/2BD8iIy

The Instant Pot® Electric Pressure Cooker Cookbook: Easy Recipes for Fast & Healthy Meals  –  http://amzn.to/2Cbdogi
Also read:  How I Afford To Travel For Cheap Or Free With Travel Rewards