This post may contain affiliate links. Read my Disclosure Policy.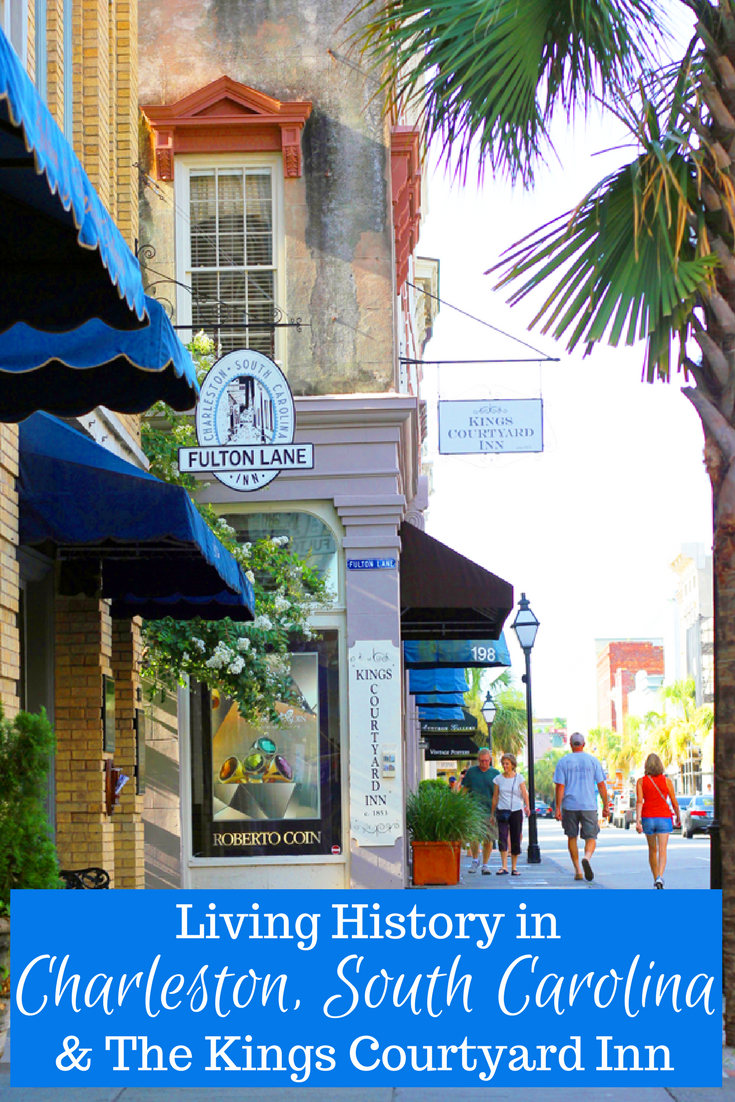 Nestled on historic King Street in Charleston, you'll find a little nook leading to the Kings Courtyard Inn. Adjacent to historic buildings and centuries old graveyards, a city that lives and breathes it's character from the old stories of it's past inhabitants, you'll find an equally historic location in which to rest your head for a few days.  If you're looking for history, but also a cozy and romantic spot, you'll love the Kings Courtyard Inn.
Built in 1853, the Inn is designed to exude southern hospitality at it's finest- we had the opportunity to experience many of the perks associated with the Inn which help it's guests relax and connect in a cozy bed and breakfast that's at the heart of Charleston off historic King Street.
Maybe I haven't lived, but in the hundreds of hotels I've stayed at, this was the first location that still used real keys- and when you use a key to unlock the door to your room, you'll experience the chance to step back in time.
The rooms are cozy and gorgeous.  Though it was a warm summer, I can imagine the fireplace inside the room would be perfect for a winter romantic getaway or a chance to relax with girlfriends.  After checking in, we got to step downstairs for a complimentary wine and cheese hour, which brought guests together near the courtyard for some bites and flowing conversations with other travelers.  We met some nice families and enjoyed the free wine!  In the evenings, they also offer complimentary sherry to all guests.  Yes, complimentary sherry in addition to the free wine.  Yes, you could honestly put your feet up and stay awhile in southern comfort.
After a nice evening of relaxing with complimentary wine and sherry, all guests get to enjoy complimentary breakfast delivered to their room- or they can enjoy their meal in the common areas in the courtyards.  Unlike most complimentary continental breakfasts, the Kings Courtyard Inn has waitstaff for the morning, so it's really a nice way to sit down and start your day.
Due to a great location, you can easily set out and explore Charleston without having to go too far.  On King Street you'll find plenty of fun shops including high end boutiques from local shop owners, to brands you know and love like Vineyard Vines, Sperry, Kate Spade and if you're brave, you can pop in Louis Vuitton for a peek.
We wandered up and down King Street, only to discover a hidden gem down a long, green pathway.  Charleston is known for it's gorgeous courtyards and little nooks that lead to luscious gardens, but we didn't know we had stumbled upon the oldest graveyard in Charleston, nestled alongside a historic church.  When you're in the south, it's odd to think of graveyards to be so beautiful, but they really are.  We respectfully wandered amongst the stones, reading epitaphs dating back to the 1800's.
After our meanderings through the historic cemetery, we wandered back to the southern charm of King Street to browse antiques and grab some gelato.  (Yes, we lived a rough life while in Charleston between picture taking and browsing the charming southern couture!).
I highly recommend Charleston as a destination for a romantic weekend or a getaway with girlfriends. You'll love the charming history of the city, the great restaurants and tasty cocktails, plus there are plenty of opportunities for shopping and fun excursions amongst the gorgeous historic buildings.
The Kings Courtyard Inn offers a great package if you'd like to experience a great city with some of your favorite girlfriends.  They offer a 3 day, 2 night Girlfriend Getaway package.  It includes gift certificates for spa pampering and a wine bar near by- including all the amenities of in-room breakfast service and all the perks.  If you'd like a memorable getaway, the Inn also has recommendations the best spots to check out while enjoying the city.