I read a lot of books, but rarely, do I love them enough to write a whole post on why I loved it and how it's positively impacting my life.  So, with that being said, I felt the need to share one book I read recently that should be shouted from the mountaintops.
The Year of Less is a book about one woman's challenge to go a year without buying anything that wasn't an absolutely necessity on a very, very short list of necessities.  In living in a consumerist society that tells us that what we buy will make us happier, more desirable, more fulfilled and can fill just about any need, Cait Flanders details how she broke away from the mindless cycle of shopping as a crutch for fulfillment and to look for more in simply consuming less.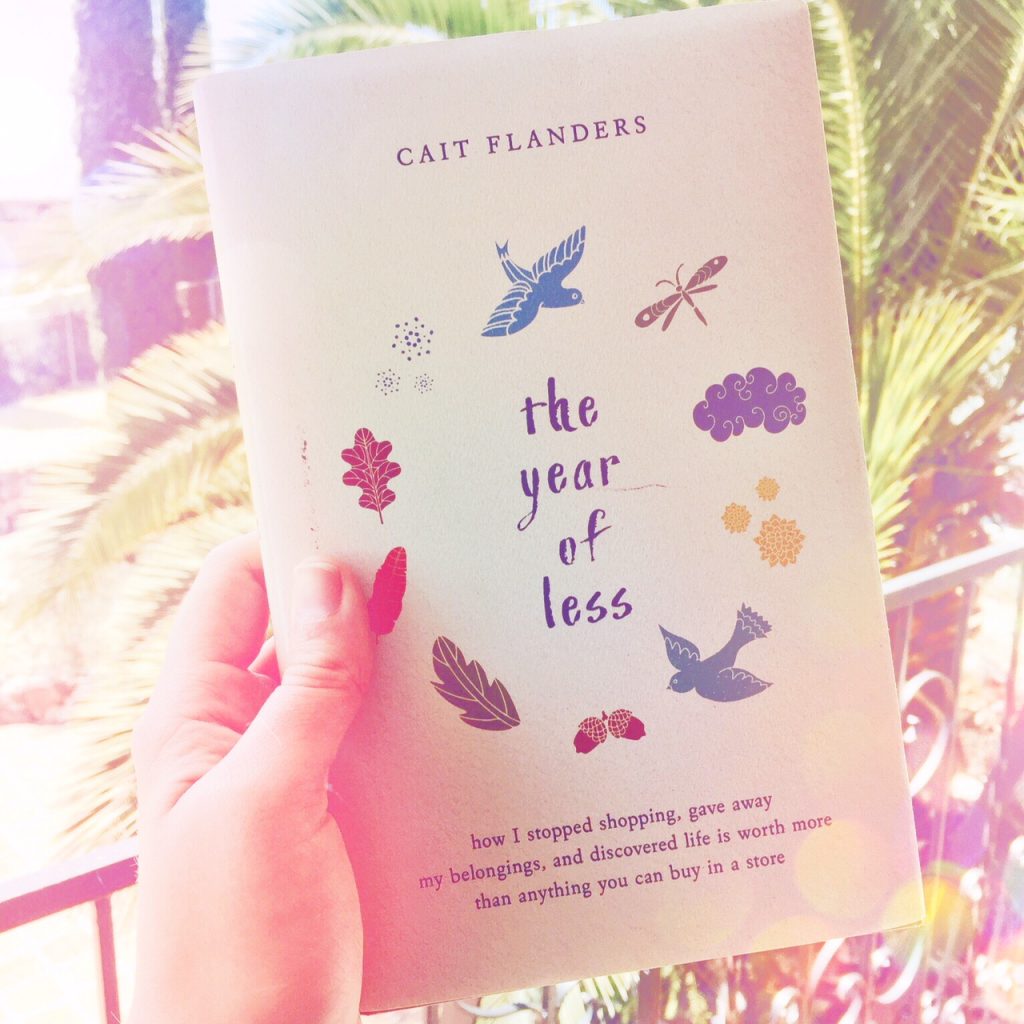 I picked up The Year of Less not only because I've been fortunate enough to meet her in person at FINCON and wanted to show my support for her work, but also because I have been grappling with many of my own questions about needs, wants and the constant longings we all face in a consumers society that tells us to spend instead of looking within.  I've spent time recently giving up on the need to be fashionable, donating 1/3 of my wardrobe and jewelry.  I plan to do even more, and this book became essential inspiration to par down in a way that felt freeing.


As I spent time pouring over each page, it became clear this wasn't simply a book about

 

woman's challenge not to shop for a year- it was a journey to ask "why" we do what we do and if our habits are really there to hide from ourselves. 

  




Most of us never really look at our choices, yet society normalizes many unhealthy habits that keep us feeling fat, unlovable, stuck, broke and simply "not enough."  We consume the messages, and we thus consume the products that are more aspirational teases than the true soul nourishing we crave.  We tell ourselves that the next product will make us happier, but the cycle never stops.  It's always more, more, more.
We tell ourselves that we "need" things to feel better after a crappy day at work.  We "deserve" the new handbag because we work hard.  We don't evaluate what keeps us stuck and keep doing things over and over as a response to our insecurities and longings. Even more, we sometimes shop because we tell ourselves that these things will surely  help us be the person we want to be, if only we had these things as tools to set us up for success.
In reading The Year of Less, what truly struck a chord was Cait's exploration of her aspirational self and the stuff she collected based on an idealized version of herself, but not what really served her happiness.
How many things are in your home right now that you buy because you tell yourself it's for the person you should be?

How many unfinished scrapbooks do we have because we want to be creative? They sit unused simply because we really don't see the project as a priority.  How many yoga mats or running shoes collect dust instead of simply being used, yet we go out and buy more?  What is wrong with our current wardrobe that never satisfies us?  We chase instead of do.
To add insult to injury, we sometimes don't even want to be these the people we shop ourselves to be, or we guilt ourselves into a cycle of shopping because we're told we're not good enough unless we care about making ourselves "better" somehow.  It's a trap.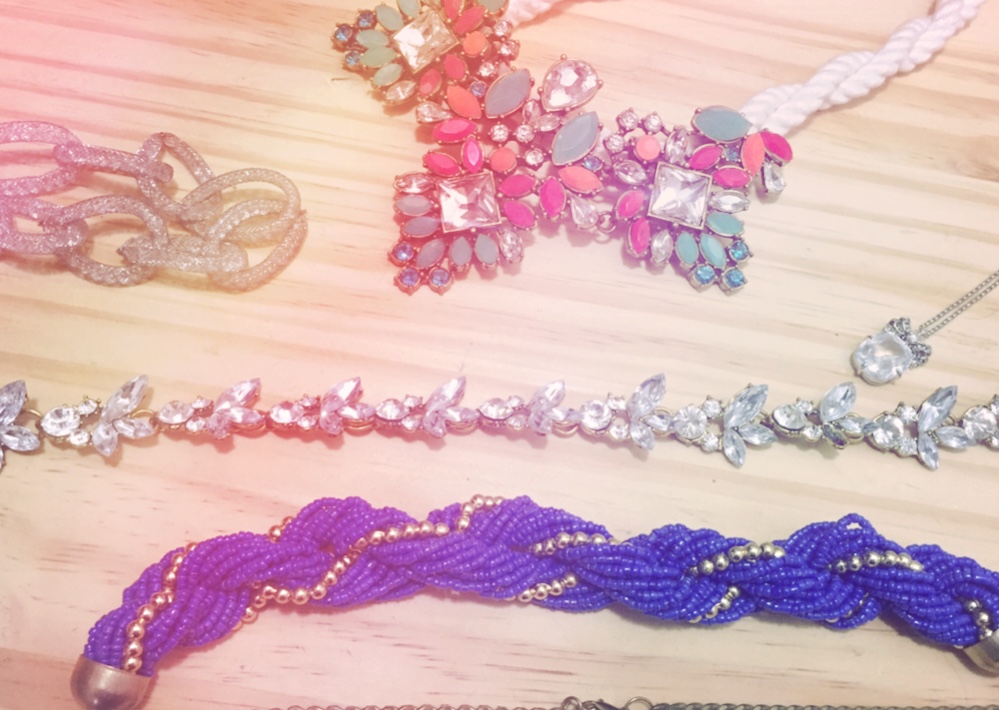 Jewelry I held onto way too long because I felt guilty I spent money on things that didn't fit my style anymore.
Think about it. Think about the dress you keep because you "should" be five pounds lighter.  Think about the handbag you bought because a woman of your age and profession "should" be more polished with a popular, designer item.  Think about the dishes you keep in your overflowing kitchen cupboards because you "should" have a complete set of everything because Pinterest told you so.
We are surrounded by "shoulds" and we are hiding from pain, and that is the heart and soul of Cait's book, The Year of Less. 
What I really took away from the chapters was the idea that letting go is OKAY, in fact- it's healthy.  Yes, it truly sucks that you spent $400 on heels you hate to wear.  It's embarrassing that you have clothes in your closet that you're too fat to wear now, or projects you started with good intentions but now hit you with a wave of disappointment every time you stumble upon them.
What would it take to simply let it go?  Does it seem too hard?  Are you afraid of what you might find if you tried?  I highly recommend you read The Year of Less.   
Cait began her journey towards authenticity long before her year long shopping ban.  In her book, she details her struggles with alcohol and drug dependence, an unhealthy relationship with food and conquering a commendable payoff of over $30,000 in debt.
What I truly love about her book is that she simply doesn't tell her story of how she did it- kicked her abuse of alcohol or stopped binge eating in front of Netflix, she weaves in an honest truth she discovered and that we all need to hear:  our habits help us hide from ourselves.
In decluttering, she also was facing her years long sobriety, upon discovering a box of clutter that contained two bottles of alcohol.  One, an empty bottle of tequila, the other, a full bottle of rum.
The empty one had served its purpose, and I didn't need to be reminded of what that purpose once was.  The full bottle needed to be emptied, only this time the contents wouldn't go down the same hole as  the other bottle.  It skipped my lips and went straight for the kitchen sink.  As I poured, I said good-bye to the waste money, wasted dreams and wasted opportunities.  Or, maybe it was the opposite, maybe it was the beginning of saved money, saved dreams and saved opportunities.Her honesty is illuminating, and her year of "less" will be an inspiration to anyone looking to find their "why," and examine their choices.
I've written about frugality for years, in fact, we both started writing about money and women's issues around the same time- but it was only recently that I began to become as introspective as Cait, though I'm only half the writer she is. 
As pages began flying through my fingertips, it was nothing short of soul-stirring to see so much of her experience in my own.  Why do we do the things we do, and how can we make better choices that better reflect the best of who we truly are, not the people we "should," be. 
I would highly recommend her book, and until it arrives- check out her blog at CaitFlanders.com where she talks about minimalism and intentional living.