This post may contain affiliate links. Read my Disclosure Policy.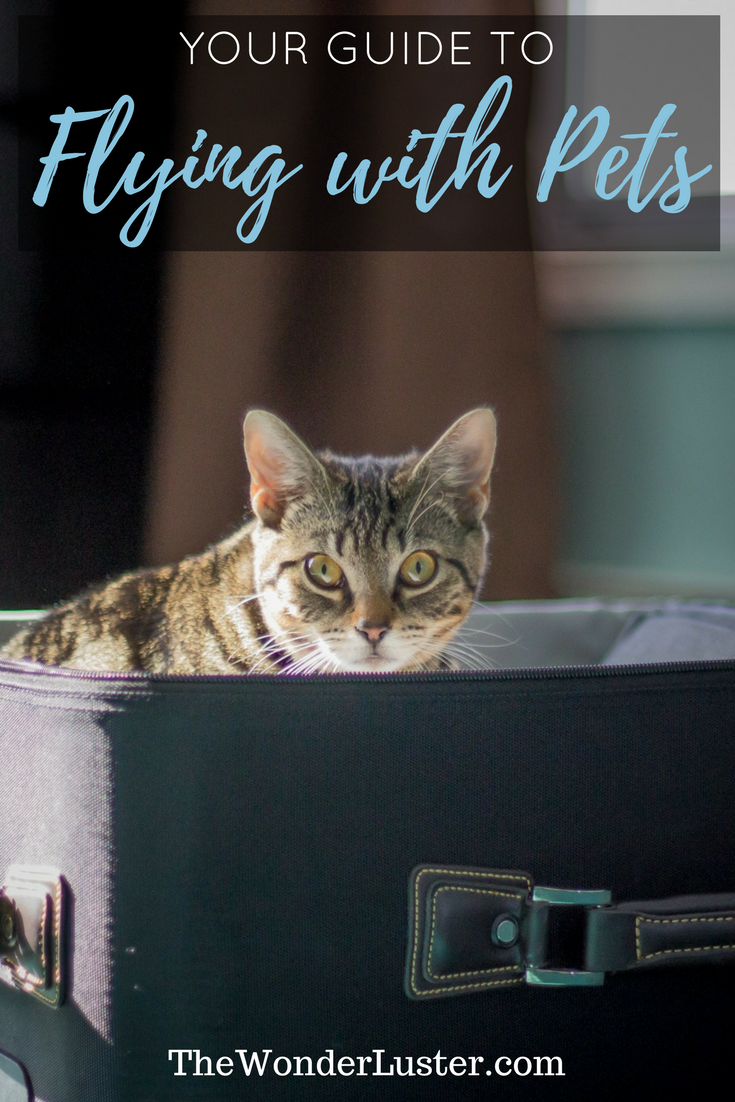 I've flown with my pug Matilda several times- both on Southwest Airlines and American Airlines.  If you have a small animal and are going for an extended stay, it might be more cost effective to take them with you than paying for boarding. Of course,  you also need to make sure where you're staying doesn't tack on pet fees, or that your relatives will truly not mind having an extra four legs in the house!
If you're flying for the first time with your pet, it can be stressful to navigate the airline's pet policies and find the right carrier and plan to make him or her comfortable as you travel.  You'll need to do some research as to your preferred airline's pet policies and how much they'll charge to tote along your pet under the seat or in cargo (which I don't recommend cargo as we'll get into below), but this guide should help you navigate the experience so you know what to expect!
Research Fees & Compare Costs
I highly recommend booking with Southwest Air since they allow for small animals in-cabin for $95 each way (sadly, up from $75 each way last year, ugh!) which seemed to be one of the cheapest, along with no baggage fees- even though the flight cost more up front, the additional fees with other airlines added up.
If you've decided it would be more cost-effective to travel with your pet for extended stays away from home, you and your pet will need more luggage, to which Southwest doesn't charge baggage fees for the first two checked suitcases up to 50 lbs. each….so overall, if you can get a good flight with Southwest, you'll be avoiding the $120 each way pet fees on other airlines, along with their $25-50 per suitcase checked baggage fees, which adds up fast.  Do the math though, you'd be surprised after all fees and add-ons are considered, which airline is the most cost smart.
Additionally- while you can, on some airlines, put pets in the cargo hold, I highly recommend you only travel with your pets who are small enough to fit in-cabin.  There have been many horror stories of animals who didn't make the flight and has caused some breeds (including pugs) to be banned from cargo travel.  For the two years I had Ralph, he was too big to fit comfortably under the seat so he had to be boarded when I traveled.  If you are a fan of pugs, Boston terriers, bulldogs or other short-nosed breeds- they may be banned from cargo travel. Check your airline!
I recommend Southwest for traveling with pets as their fee is cheaper, and TSA approved carriers fit with a bit of room to spare.  This is a medium Sherpa bag.
Determine Your Dogs Size & Buy A Carrier
You'll need to bring a dog/cat carrier that is denoted as being "TSA friendly," and will fit under the seat.  Southwest has their own brand (which, I don't know about you, but I don't like to pay $45 to advertise with their merchandise, if they want to send me one for free, I gladly will- ha!) of pet carriers, but you can also pick them up at Petsmart, Petco or Amazon.
I highly recommend Sherpa brand pet carriers.  They are easy to carry, TSA friendly and up to the medium sized carrier, they will fit comfortably underneath airline seats.  I researched carriers like a fiend, because I was very nervous about getting to the airport and getting turned away- and many travelers recommended Sherpa carriers as they worked on a variety of airlines.
Know The Checkin Process
For Southwest, you simply need to check in with your pet in their carrier and pay the fee. For American, there seems to be some time consuming paperwork, so allow an extra five minutes, depending on the swiftness of your checkin agent, to weigh the dog and charge your credit card. I have never had a problem bringing my dog on the flight, and checkin has always, thankfully gone smooth.  If you've gone with a TSA friendly carrier, it should fit just fine, but if you go with a larger carrier, that's still TSA friendly, you may not be able to slide them under the seat, and they may spill into your foot area…so stretch out before you sit…it'll be cramped for any animal in a larger TSA friendly carrier (I'm guessing, over 18 lbs).
After you pay your pet's way, you'll have to go through security.  The carrier will have to go through the x-ray baggage screening like all other luggage.  You will need to remove your pet, and carry it through the medal detector.  Then, you should be done!
Research Your Airline & Your Seat- Touchscreens Can Be A Problem
I learned the hard way that not all TSA friendly carriers actually fit under the seats even if the airline says it will.  Annoyingly, on a recent American Airlines flight, I was booked on an aisle seat, which had less underseat space than the other two seats in the center or window seats.  Additionally, on the newer American Airlines planes that have touchscreens have under the seat electronic boxes to power the screens, cutting down your available space.  Needless to say, the Sherpa carrier I used for Matilda that fit perfectly under the seat on Southwest, wouldn't even work on my aisle seat. Yikes.
Luckily for me on that flight, the center seat was empty, so I could put her in the middle seat, but it was still a squeeze. This is why the Sherpa carrier is so good- it's got wire to add structure, but helps squish it a little bit if need be on a full flight.   I tweeted American about this problem, and they said that I should take it up with the airline flight attendants…which can be sort of stressful when you fly, to try and swap seats.  Just be aware, on flights that have touch screens, this may make under the seat storage a problem.
Here's photos from my medium (up to 16-17 lbs) Sherpa Pet Carrier on a new plane with American Airlines, you can see the problem:
I couldn't fit my Medium Sherpa under my aisle seat on the new American Airline planes. I had to put her in the middle seat, even though my carrier is TSA approved.
As you can see, a similar bag to the one I traveled with on my Southwest flight, it wouldn't even fit under the seat, it was too tall, and the aisle seats have virutally no foot room with the electronic box underneath all seats with a touchscreen.
It was a very, very cramped flight on the new American Airlines planes with touchscreens- be aware!
Consider Sedation
No matter how well traveled your pet is, travel is stressful. Being in a cramped container is stressful.  I called my vet to ask for pills to help my dog relax a bit.  Plan ahead, have pills and treats ready, and give your pet a sedative 1-2 hours before you leave, or before they have to be put in their carrier (if you're being driven by a friend or family member) en route to the airport.
Pet Relief Areas Are A Pain
If you are unable to take a direct flight, you'll want to take your dog out to relieve itself and stretch it's legs. Be aware that most, if not all, pet relief areas are outside the airport, past security- so you'll need to plan time to go through security during your layover to enter the airport and board your connecting flight. Plan time for this, it can be quite a walk out to the pet relief area, and security may take some time to go through.  Honestly, the pet relief area has been a hike at most of the airports I've seen, so whenever possible- for both yours, and your pet's comfort, book direct flights whenever possible!
The first time you fly with your pet, it can be very stressful.  I know the first time I flew, though I researched carriers, bought four and returned three to find the right fit, the process was relatively simple.  I was so worried something would go wrong or that I would get turned away at check-in for some reason or another- but that's never happened.
Just remember to keep your pet comfortable, and give yourself plenty of time for checkin and getting around while bringing a pet- you should be fine!