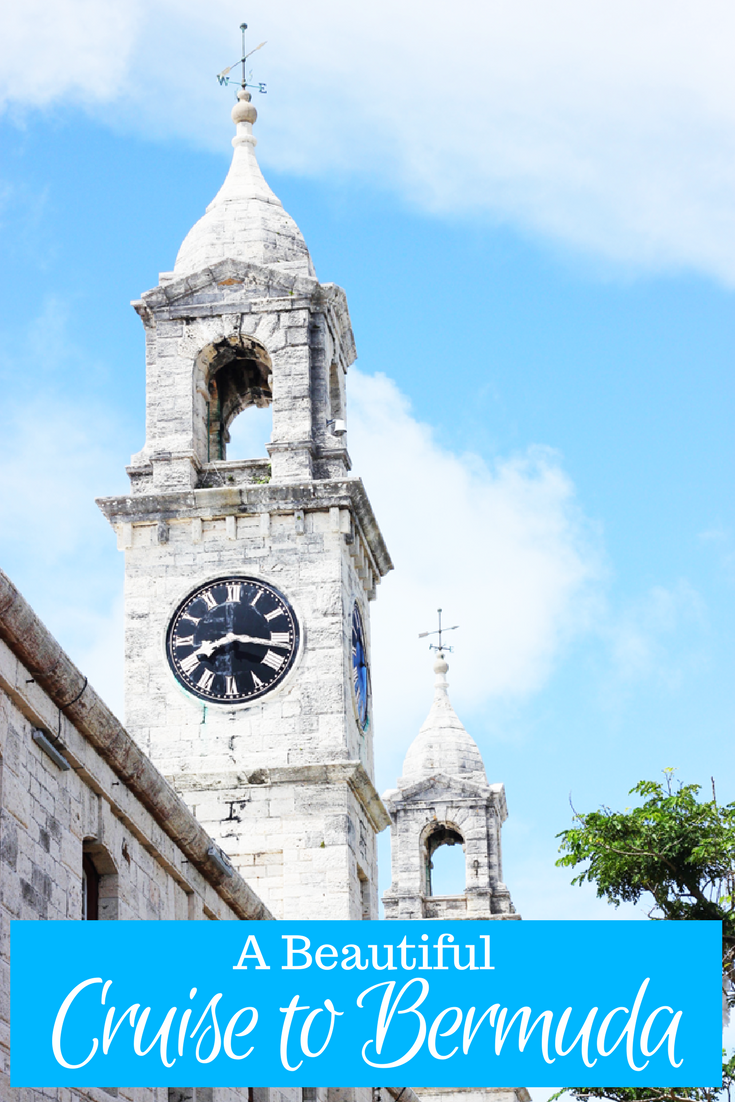 Have you been to the island of Bermuda?  It was my first trip abroad, and my first solo cruise with Holland America on a delightful 7 Day Bermuda cruise that was both invigorating and relaxing.
The island wasn't what I expected.  Bermuda isn't your typical lush, tropical oasis you might expect. While it does boast some amazing beaches with some gorgeous blue waters, the palm trees are imported and the island itself doesn't really produce anything.  It is a British island, and while it's known for it's awesome rum (which I'll get to later, I'm a fan), there isn't too much that's actually created here.
Additionally- there are only two ways people really live here, you're either Bermudian, or you're really, really rich.  Literally.  You either are born in, marry in, or have a temporary visa to work- or you're a quadrillionaire (technical term) who can afford the 19 million dollar homes on the island, and even then- you're only permitted as a foreigner to stay at that home 6 months out of the year.
Because of this- the island has a unique culture which is a mishmash of British, islander and foreign influences, with a dialect and way of life that's vastly different from anything you'd encounter elsewhere.
Not all of the houses are mansions, but nearly all houses have the unique white terraced roofs, engineered to capture rainwater for the homes.  While all homes have plumbing, there is no water system on the island-so each home is responsible to capture their own water, with lime covered roofs and tanks to help purify the water.  They say, you can tell the state of a person's cleanliness and life simply by the state of their roof.  
On the ms Veendam, we docked in Hamilton, since our cruise ship was a bit smaller than the other ships that frequent the island.  Hamilton is the big city on the island, and it's got a (small) city vibe.  To get to the beach spots, you'll need to grab a bus or a cab out to Elbow Beach or Horseshoe Bay.  You can rent a scooter, but honestly- locals advise against it.  Every few months a tourist or a local suffers a fatal accident- it's not a big island, but it's a busy one.
The other, larger cruise ships are docked at Dockyard, which I got to visit by taking a ferry over to that end of the island.  Dockyard is home to the Frog & Onion Pub, the Bermuda Rum Cake Company, Bermuda Glassworks and plenty of shops.
Bermuda Glassworks, you can buy a cake and watch glass being blown.
Through the cruise, I took several excursions on shore- including shipwreck snorkeling, a sunset catamaran and a rum cruise at sunset.  Bermuda is home to Gosling's Rum, a new favorite of mine, and I was able to enjoy my favorite drink, the dark & stormy a drink that's actually trademarked by Gosling's Rum as the official drink of Bermuda…(aside from the rum swizzle- a concoction of rums, pineapple juice, orange juice and grenadine).
I took the Dark & Stormy Tour with Gosling's Rum and had a blast.  I scored a free pair of sunglasses for answering a trivia question, which I totally got wrong, but got a laugh- so I enjoyed my new shades…and purchased two amazing bottles of rum to take home..including the Bermuda Gold which is made of loquats… I'm sort of crying tears of joy and sadness, Captain Jack Sparrow style, and asking "Why is the rum gone?"  …because it nearly is.  My friends love the stuff..and so do I…it went too fast and isn't available in Chicago.
Sunset, rum, cute guys.  I heart solo travel.  Please, pour me another.
My free swag for answering a trivia question about booze making..woot.
I also got to take a catmaran snorkeling tour on the Restless Native, a really fun pink catamaran that offered freshly baked cookies, unlimited rum swizzles and a cove tour that allowed us to snack, snorkel and enjoy the gorgeous blue waters.  If you've never been on a catamaran, it's a big boat with hammocks in the front.  The Restless Native also had bean bag chairs to lounge on, so I splurged on a dark & stormy, my favey fave beverage, and enjoyed a dip in the warm, blue waters and a few cookies that were baked on board during our tour.  It was also a favorite!
To find the best spots in Bermuda, you have to venture outside of Hamilton to find the picturesque coves and beaches.  Luckily, our guides knew the best cove spot on the island (well I thought it was the best) for paddle boarding, snorkeling and kayaking.  We got to enjoy some delicious treats on board and some of the most relaxing waters I'd been in.  I found some sea glass and had some great conversations with other travelers, it was wonderful!
I had an awesome trip to Bermuda, and I took so many photos.  If you haven't been to the island, taking a cruise out there is a relaxing way to travel- and the tours/excursions are a great way to explore!  I was on the 7 day Holland America cruise to Bermuda and really liked it- it was just enough time on the island (2 days at sea each way, 3 days on the island for excursions and plenty of beach time.) and just enough time away…plus, if you can get a sale on a cabin, you and a partner can travel for around $100 a day or under- which is much cheaper than going to the island solo.
I already miss the beaches of Bermuda, but the trip has made me want to explore even more. I'm not sure if I could live there (honestly, leaving a place you could imagine starting a life at is hard!)…even if I were a gazillionaire, it was an interesting, but totally friendly and approachable culture.  I think for the next few years I'll want to see what the beaches of Mexico, Jamaica and Costa Rica look like since this was my first international trip..Bermuda has created a beachy wanderlust in me!
If you've been to Bermuda, what did you think?