This weekend, my stress levels came to a rolling boil.  I can tell you, it was not pretty.  I was not a nice person to be around, and luckily for the greater population of Texas, I didn't encounter too many folks and my significant other had his phone tucked away when my pot of rage boiled over.
You see, this past weekend, I was supposed to go to Chicago. It was an impromptu deal, I snagged pretty quickly and the trip was going to be a 72 hour escape from holiday job stress (I work in marketing), the endless list of shit-to-do at home (this house will be the death of me), and really, my state of mind.  It was going to be a welcomed respite from the day to day, and I was highly looking forward to it.
Alas though, it was not to be.  Everything that could go wrong did go wrong- but thankfully for me, Southwest has this amazing policy that if you cancel your flight before it takes off you get a credit, yet that still didn't remove the disappointment and frustration that lead me to that moment.
You see, we have a foster dog, he's a French Bulldog and surely, a dog I would keep in my family if only his interactions with my existing canine unit didn't randomly erupt in a scuffle.  No blood ever comes of it, but this time, our 9 year old Boston Terrier didn't rebound so quickly.  After we broke it up, he was in downward dog position, and didn't want to come out of it. Apparently, this is what dogs do when their neck feels ouchie and they can't tell you.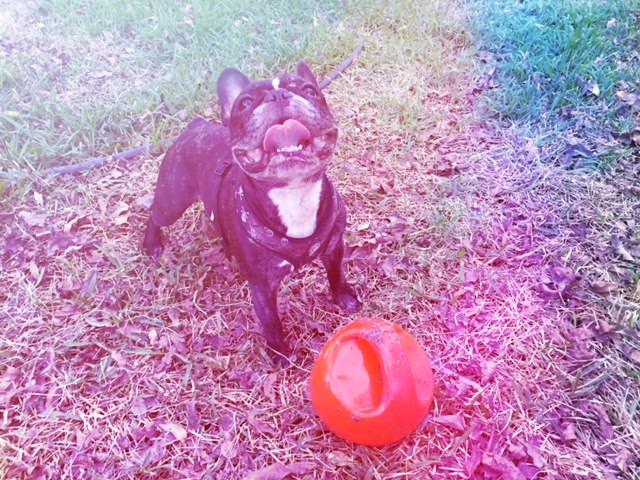 This little thunderball has made our home so happy, but he also lead to $550 in veterinary expenses. Happy things are also stressful things.
So, after 4 hours at the emergency vet, and a nearly sleepless night, I was exhausted.  At 6am, realizing I had no clean clothes that could brace me for the "chilling winter cold" (it's 70 degrees here in southern Texas as we speak), and nothing was prepared for our upcoming AirBnb guest, nor was our charity run completely prepped for shipping as planned, it was a complete meltdown. I had to cancel my flight and work on stuff at home.
Yes, I had a big ol' dose of first world problems, but by Sunday evening, after two hectic days, I finally circled back to grace- though it took some work.
Most of us are running around with a lot of first world stress, but it's still stress.  I have it better than so many Americans, but have you noticed just like lifestyle inflation causes you to spend more, this inflation and quality of life also sometimes comes with a new crop of stressors to go along with it?
I'm saving for retirement and am debt free, but right now I live paycheck to paycheck.  This house is expensive and I often wonder if I've made a gigantic mistake by buying it.  Every month, I spend about $500+ in something to work on it.  The broken things and issues seem to never stop.
There have been a slew of changes at work. My significant person works 12 hour shifts every day and often, 6 days a week. We have a foster dog that spontaneously stokes a nonsensical rivalry with my pug, which lead to my other dog getting injured.
We have been constantly booked up with Airbnb guests, which, while super awesome, also is a juggling act and means that my house is probably the consistently cleanest it's ever been.  It's a lot of upkeep for someone who tended to shove things in closet, pile things or simply use the sink as a storage unit for undisclosed amounts of time.
Gratitude is the key to being happy. You will always have stress. Stress doesn't go away, it simply evolves over time.
Being grateful doesn't make stress go away, but it keeps it from eating your life away like a tumor.
Stress is a tricky son of a gun, more blessins sometimes bring more stressins.  That beautiful baby you prayed for is also the reason you're exhausted.  The job you worked so hard to snag is now what keeps you up at night.  The relationship you'd always hoped for isn't always going to be romantic bliss and the house that you know is your dream home, brings with it expenses and repairs.  Mo' money, mo' problems.
As your stress triggers evolve, your reaction to it needs to as well.
So, how do you respond to stress with gratitude?
First step, stop telling yourself how to feel.
The first step in anchoring your stress with a sense of gratitude is to make room for it.  Attempting to minimize your stress usually maximizes it. Simply acknowledging that you feel stressed, even with things that bring you joy or fill your life up, without telling yourself how to feel about it, or forcing it away, will help unwind it a bit, and make room for other feelings like gratitude, peace and calm to find their way back in.
In meditation, we call this "non-judgement."  When feelings crop up and start to take the wheel of your thinking and driving you to a stressed out spiral, it is key to simply pause, acknowledge your stress without saying whether it's good or bad, or you should or shouldn't feel it.  Then you can feel grateful you noticed, and when that calms you down, you can feel grateful you have the ability either now, or in the future, to fix the stressor, and finally, be grateful for what's going right.
In fact, working on returning to a state of being grateful initially might seem to anger or upset you more, but if you take time to simply stop, breathe, and simply acknowledge, "yes, I'm stressed" without wishing it away, forcing it to subside or ascribing gratitude first before you acknowledge the stress.
After your reactionary rage and stress levels begin to wane when you insist on being still and breathing, you then can make space for gratitude to return and look around to see how wondrous things are in spite of the stressors.
I took a minute in the car to simply breathe, calm down and acknwoledge that I was overwhelmed and that indeed, not going on a trip was a total bummer.  I acknowledged that the stress of an injured dog and the bills to go with it royally sucked. I took time to acknowledge, without minimizing, the feelings in my heart and mind and spend time with them. It sounds hokey, but it worked.
I took a few deep breaths, sitting with the overwhelm, worry, grief and disappointment with all the various factors convalescing in my life.  I sat with it.  It was there, cool.
As I gave my stress space to breathe, and I breathed along with it, it began to lessen.  It was then I was able to think clearly enough to anchor my feelings with gratitude.
Only after acknowledging the crappy stressed feelings I had, could I make room for gratitude and things to be happy about then appeared:
Access to medical care and financial stability to help both me and my doggies.  Is it expensive to be healthy? Sometimes yes.  Am I darn grateful that I have a car to drive to the vet, gas in the tank, a credit card and steady income, also yes.
Running water.  In both hot and cold.  I have so much of it, I can literally fill a tub with it and sit in it.  Access to safe drinking water is a problem for millions of people and I have enough to literally pee and and use to keep my toilet bowl clean.  I literally flush it away.
Temperature control.  Yes, heating and cooling is a hot button issue in this house right now (Our electric work is a nightmare), but I can decide, when things are working, how hot or cold I want my space.
Access to just about whatever I want at any given time.  I can go to the store, and buy a bottle of red wine, out of 90 different types, then when I drink too much of it, there is Advil I can take to get rid of my headache. It's readily available and cheap enough I have a 200 count bottle ready and waiting.
When my lady parts remind me of my double X chromosomes, I don't have to fret about it.  I can see a doctor if I need to.  I have heating pads and maxi pads.  I also get to choose when I have kids, if I want kids.  I also have enough disposable income I can donate to centers that help other women with their periods and fertility choices.
The friggin' internet.  This weekend, after I was done being a petulant child about my nixed trip,  I literally had access to a web of answers to plan out my Instant Pot meals for the week, brainstorm ideas for our how to decorate our master bedroom, videos on how to care for orchids, answer questions about our Airbnb room and stream Christmas movies… and it did not go out ONCE.
The grocery store.  So I got to the store and realized that with this delightful new iPhone update, photos sometimes don't exist anymore after I take them- so, my entire recipe plan didn't make it with me to the store.  Wahh.
I then got to come up with a new meal plan that involved a cornicopia of choice that our grandparents would have envied. I literally can have whatever I want- in fresh, frozen, canned, or other shelf-stable forms. Yes, hunger in America is really devastatingly real, but when we complain about things, we rarely think of the real needs that exist today, or the scarcity that existed 100 years ago.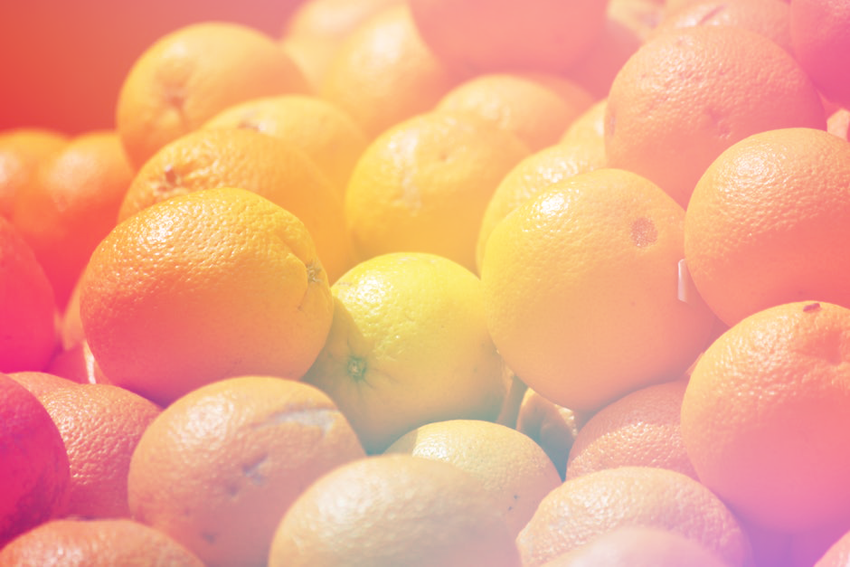 My grandmother told me when she was eight in Canada, getting an orange for Christmas was a big friggin' deal.
Ya, I have a lot less to complain about when I think about that.
Just let that sit for a second. Can you imagine a single orange being the highlight of your year? How long do you wait to peel it open knowing it's your only one and it's like, 1926 in Canada?  I find it hard to be bitter when I have the internet in my pocket and I can literally answer that question now.
Of course, these silly revelations aren't helpful at unwinding your stress if you're using them to minimize or shame how you feel.  Simply sit with your stress, then poke at it.  I assure you, it helps. 
Honestly, life is stressful. The very things we long for are the things that cause personal and financial stress in our lives and complicate our lives endlessly.  Homes, jobs, kids, family, spouses, dogs, neighbors- the good stuff can complicate our lives.
I find it's helpful to both acknowledge, without judgment, that even a stroke of good fortune can cause stress, and then, to allow yourself to find the wonder in the basic everyday things that surround us.
Whether you're having a stressful day or a stressful season, making space for your feelings and allowing room to be grateful without simply reacting to stress, can be a sanity saver. Honestly, no matter how crazy, hectic and stressful our lives are, there can be at least five minutes in your day to breath, acknowledge, examine and then reframe with gratitude.
Stop. Breathe. List the ways things suck.  Give it a "yup!" without judgment. Make room for gratitude.