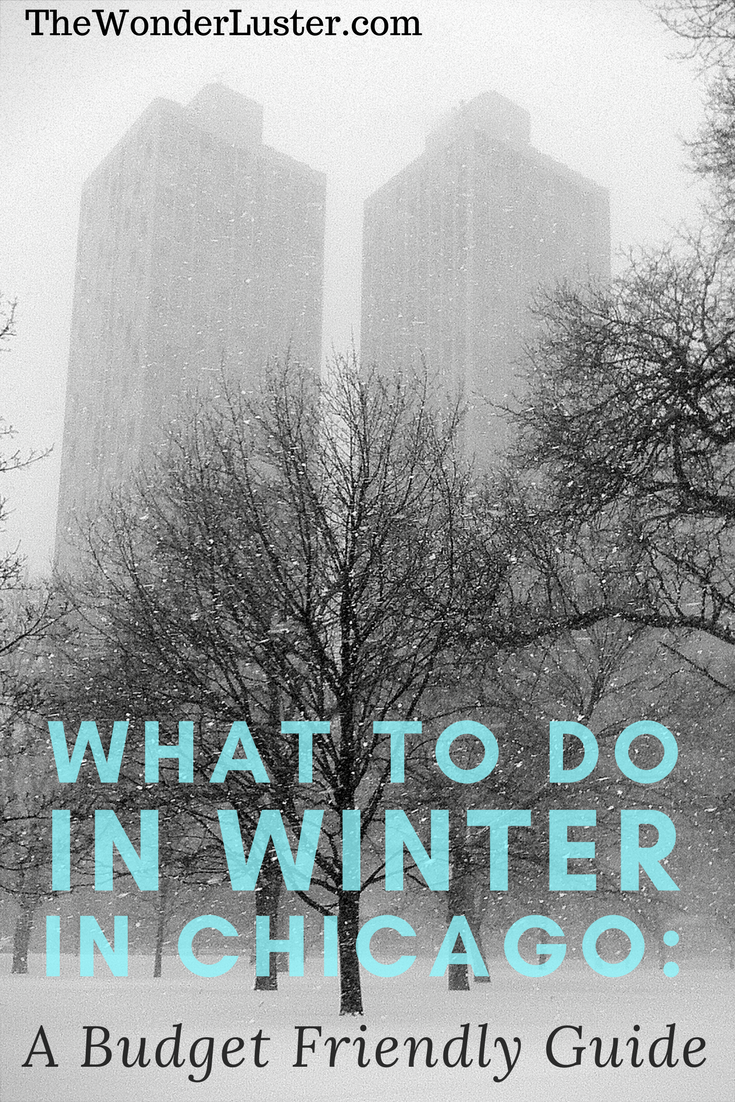 Visiting Chicago in winter can be totally fun with the right planning, even if you hate the cold!  Winter can be especially tough for locals and visitors alike in Chicago.  For some unknown reason, I've had a variety of people come to visit me in Chicago, in WINTER and for the life of me, I do not understand people's sadistic pleasure in thinking they can somehow enjoy "experiencing true winter."
That being said, there are plenty of lovely things to do here if you *must* come here in the dead of winter.  Chicago is a great city, even when it's 10 degrees out, so enjoy some of my suggestions as to what to do and see if you're on a budget in Chicago.
WHAT TO SEE AND DO IN CHICAGO OVER THE WINTER:
Art Institute
Located right off of Michigan Avenue, the Art Institute will be a welcome respite from the chilly winter winds you will surely experience when you *have* to go take pictures at the Bean (A.K.A. Cloud Gate) which is right across the street in Millennium Park.  It's easy to get to from the Brown, Purple, Red or Blue lines or you can always Uber…because chances are, you won't want to walk too long outside if that wind is blowing!
Also, as a tribute to the many locals who suffer through winter, the Art Institute offers free admission on Thursday nights from 5-8.  You're welcome everyone, winter is tough.
Lincoln Park Zoo
Hit up the Lincoln Park Zoo before Christmas for a gorgeous display of lights at ZooLights.   It's pretty, I assure you. There is also ice skating and skate rental is only about $5 last time I checked- not bad, right?
ZooLights is totally free and you can watch some ice carving, carolers, or be dazzled with a synchronized music and light show…no coin required.
Glögg!!
If you're willing to make a trek up to Andersonville (right off the Berwyn Red Line), you will need to have some Glögg at Simon's.  It's a divey-delightful little spot and each little glass of this hot wine concoction is served with an adorable ginger cookie that you will try and break into 3 pieces to get a wish.  (I have yet to achieve this, my cookie breaks into four pieces, I apparently suck at luck cookies).  It's about $6 per glass and you may need to bring cash- but you're in a really cute Dutch neighborhood with plenty of shops to stroll around in.  You'll have a good time strolling around Andersonville to shop, and you can keep your buzz going with a fantastic Manhattan from Lady Greggory's or just about any sort of beer from HopLeaf.
Christkindl Market
I have to put this on here, because there are some diehard Christkindl Market fans out there who love to wait in long lines in Daley Plaza and pay for overpriced mulled wine in a ceramic boot (which I hear is no longer a boot, gasp!).  If you like German stuff and you're downtown, be prepared to join the entire population who also shares their affections for all things Germany and all things Christmas for some long lines, but adorable glass ornaments, German food and gifts you an peruse in this little Germanish village composed of little sheds full of stuff to buy.  Go at the right time and have a good time. Go during prime tourist time and prepare to wait in lines outside the aforementioned shed-like structures just to see what you'd like to spend your money on.
Instead of Christkindl, Try Lincoln Square
Like the aforementioned Glögg, this location is a bit of a trek outside of downtown, but I assure you- you can have mulled wines and stuff to spend money on without the crowds.  Lincoln Square is a very Christmasy adorable little nook that also is home to some good German, Mexican, Greek & other things.  Enjoy the lights, stop in the Book Cellar and be sure to shop at Enjoy, an urban general store, to #shoplocal for some cute stuff to gift.
I always stop in Hüettenbar for some mulled wine and plenty of Germanish kitsch (the place looks like an adorable ski lodge, tell me you don't love it).  They also have a Christkindl Market that's had some mixed reviews, but that's how I feel about Christkindl in general.
Get Fat & Happy In Logan Square
Chances are you have had deep dish before….that's great.  What's even better is drunken doughnuts at the Boiler Room– a delightful combination of fresh doughnuts dipped in Jameson soft serve. Yes, that's Jameson soft serve.  You can also get a total midwesty type combo meal while you're at The Boiler Room- a PB&J…pizza, beer & a shot of Jameson.
If that's not enough Jameson for you, go to the ATM and get a free shot (this place, like much of Logan Square is cash only, sigh).  Then, when that's done, you can drunkenly stumble over to Revolution Brewery right across the way.  I would recommend putting in  your name at Revolution before going to The Boiler Room (oh the waiting you'll do!) if it's a busy night or weekend, but honestly, you can always go back to the Boiler Room for more Jameson-infused good times.  Also the bathroom is a replica of the EL which runs over the bar.  I kid you not.  This is right off the California Blue Line stop, and you can take a cab or Uber over to the Revolution Brewery tap room which doesn't serve food, but there is usually no annoying wait for good beer.
;lLIf you're in Chicago, be sure to send me a tweet– maybe we could meet up for some Glögg!