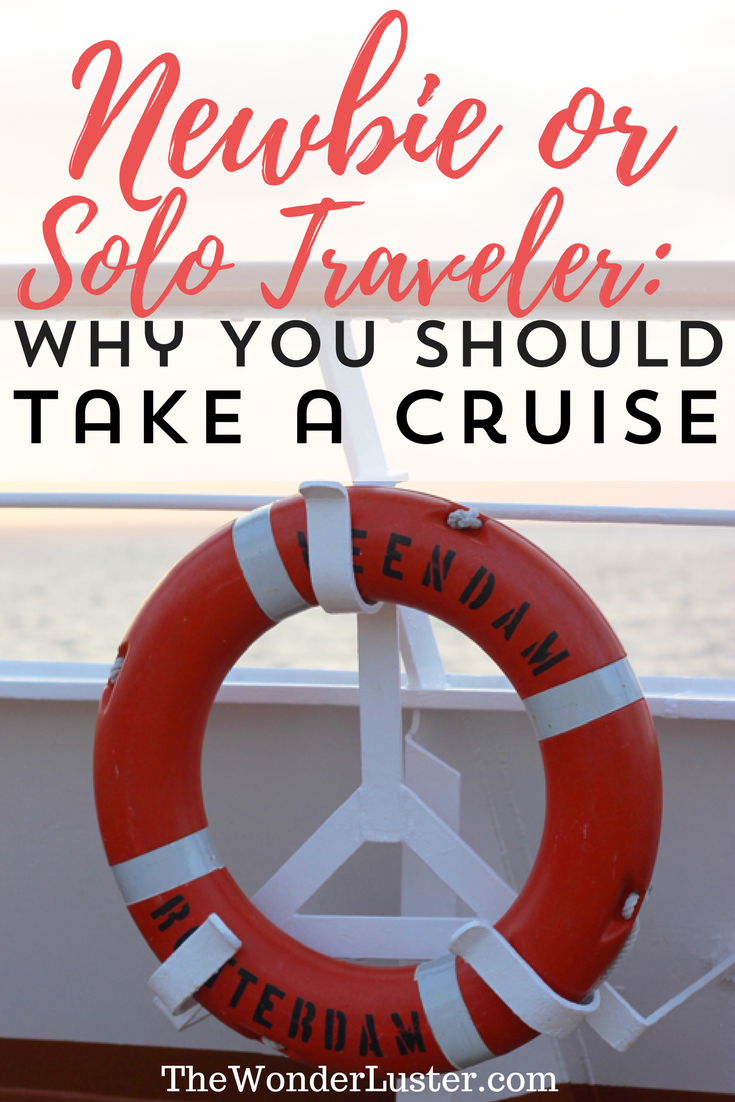 Cruising, as I've discovered, seems to be a culture all of it's own.  Last month, I took a 7 day cruise to Bermuda, my first international trip and my first cruise as an adult (I had taken one well over a decade ago when I was 18).  I also took this cruise by myself, and while some people were shocked that I'd take a 7 day cruise by myself, I can tell you it was one of the best vacations I've ever had!  If you're a newbie traveler, or you want to take a vacation and aren't sure if you can find a companion for the trip, cruising is a safe and fun way to take an unforgettable vacation.  Here are my top reasons I love cruises for newbie travelers and solo travelers.
1.  You're In Good Company
There were plenty of other solo and single travelers on the cruise, and I never felt out of place.  There is an attitude, at least what I experienced on Holland America, that everyone is in a jovial mood.  At times, if requested, I could be seated by myself, but other times, I requested to be seated with other passengers- and the dinner conversations were always really good.  I got to hear from folks that had been all over the world, from different walks of life and it was really enlightening.
Additionally, there were several solo/single meetups on the ship that involved free cocktails.  Yes, this girl loves free cocktails. I met men and women from a variety of backgrounds and age groups.  Some were traveling solo like myself (like a younger teacher who simply loved to travel during her summers off), some were widowed, and others still were there with their entire family but didn't have a partner with them and wanted to meet new people.
2.  It's Cost Effective
On my 7 day cruise to Bermuda, a flight would have cost at least $500-600.  A 4 day hotel stay in Bermuda would have cost no less than $800.  Food on the island isn't cheap either, (I somehow got swindled into a $13 beer, but the fella felt bad so I got a free pint glass to take home…that I didn't need?) so easily, food could cost you $300 for 4 days.  A 7 day cruise to Bermuda, however, is around $1500 per person or less.  I opted to get a nicer stateroom with a balcony, but honestly- many cruisers brag about how awesome it is to have boarding, food and entertainment for $100 a day.
3.  You'll Get Lots Of Yummy Food
Is it just me, or is food at airports the worst?  What I love about cruising is that you can eat really well while you're still en route to your destination.  On our way to Bermuda, I got to enjoy surf and turf, the most amazing cactus pear sorbet, sushi almost daily and three square meals a day.  I love food.
4.  Breakfast In Bed
Okay, I geeked out about this one- I got to order room service every day for free.  I could customize a menu with coffee, turkey bacon, veggie sausage, fruit, and an omelet. Other days, I opted for a bagel and scrambled eggs, and could customize the time it was delivered.
Ya, pretty snazzy.
5. Excursions Take The Stress Out Of Travel
You know what I found funny- sometimes planning a vacation to relax can be a lot of work.  When balancing work, life and vacation planning, especially if you're a newbie planner like myself, it can feel sort of overwhelming. Some folks relish in the work involved with planning a 7 day vacation- the activities, the restaurants and the activities. I spent time on Pinterest to understand Bermuda, but was really grateful to have some semblance of an itinerary and excursions to add structure to the trip.
6.  Solo & International Travel Is More Approachable
It can be intimidating to be a chick trying to get out more.  If you're a passport virgin like I am, international travel can be a bit overwhelming. Many women travel solo and are great at it, with no problems- but for the first few trips, you may feel the need to get your solo/international sea legs.  What's it like when people drive on the other side of the road?  What's the deal with currency exchange?  Will language barriers be an issue? How will I navigate a different culture.
Getting off the boat with a bunch of other people who were disembarking at the same time, who were friendly and loved to travel made it much easier to explore. It made me feel less alone, and it was nice to have people to go out with and journey together- even though we had been strangers previously.  Even though I was traveling by myself, I had fun- but if you're going solo to a place with a different language or a vastly different culture, going on a cruise takes the overwhelm out of exploration.
7. You Can Be Fancy & Relax On The Same Cruise
Formal nights on the ship aren't as stuffy as you'd think- you can get a delicious surf and turf meal, and I saw various levels of dressiness for formal nights.  I'm not sure about you, but steak and shrimp aren't a nightly thing for me.  Additionally, I don't get a ton of opportunities to dress up.  I enjoyed that you could lounge by the pool during the day and be casual, then shower and get gussied up for formal night.  We had 2 formal nights, both of which were optional.  You can tailor your experience to be as laid back or as fancy pants as you'd like.
8.  You Get To Enjoy A Journey & A Destination Simultaneously
Often, getting to where we're going is not a fun experience- but with a cruise you can enjoy both the journey and the destination.  I got to enjoy three and a half great days in Bermuda (which I'll talk about more in an upcoming post), but getting there was relaxing. I got to enjoy yummy meals, breakfast in bed, reading on a private balcony, a spa treatment and some great cocktails in the process. For me, two days at sea and days on site in a gorgeous place like Bermuda was just the right mix.
Thank you to Holland America for inviting me as a media guest on their ship. I paid my own way, but was offered discounts and complimentary passes for extra services to help facilitate my review.