This post may contain affiliate links. Read my Disclosure Policy.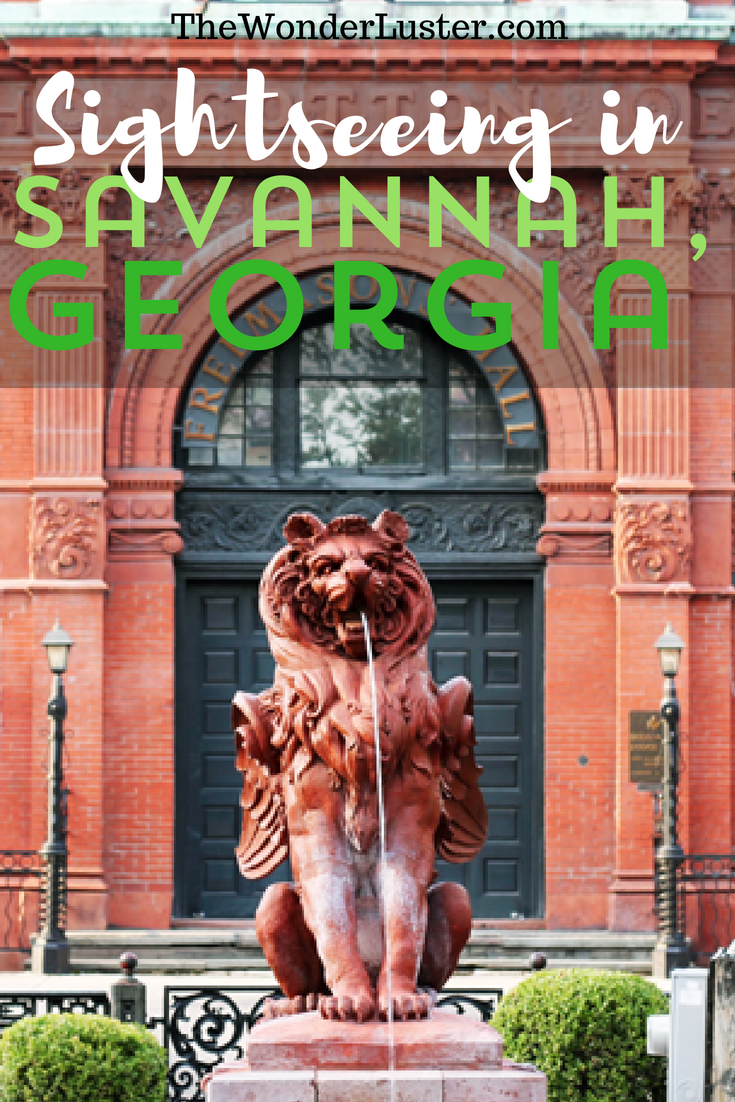 Sightseeing in Savannah, Georgia
Savannah is easily one of my favorite American cities.  With dozens of gorgeous, historic squares, stunning restored homes and quaint shops surrounded by a beautiful river front and lined with beautiful oak trees dripping in Spanish Moss, it's a city you never forget.
When the beau and I were going from city to city, I seriously had to consider moving to Savannah.  I seriously considered it time and time again.  Honestly, it was an intoxicatingly beautiful city with nice people and the potential to develop deep roots somewhere.  I think someday, Savannah will be on the docket, but for now, I will save my pennies to be able to buy one of those gorgeous homes that line the squares in the historic district.  A girl can dream!
So, what were my favorite things to do in Savannah, Georgia?  Here are my top picks to check out if you go, well, WHEN you go, because, you really should go…
Firefly Distilling (Home of Firefly Vodka):

Okay, so Firefly Distilling Company is not in Savannah, but it was en route to Savannah from Charleston, South Carolina.  Driving out to the seemingly middle of nowhere is totally worth it for a $5 tasting of some delicious moonshines, flavored vodkas and all you can eat popcorn.  There's also a winery tasting section on the grounds, but since there were quite long waits while we were there (and it was hot), we only opted for the one tasting…but I assure you, it was worth it.
You can get Firefly Sweet Tea Vodka here in Chicago, but I hadn't seen the other flavors, all of which were delicious.  For $5 you get to pick several tastings and to keep the shot glass. I will say the Sea Island Java Rum was amazing and so was the Firefly Southern Lemonade (which sadly, you cannot get in stores and I would have bought some but we only had carry-ons, sigh).
I would have bought all of the things, had I been able to.  It was delicious- make the trek out there!
Savannah River Street Market Place & Savannah History Shoppe:
Pretty much everyone knows about River Street in Savannah, it's a stretch along the river filled with touristy things, pecan pralines, a few restaurants and a few local goodies- but one of the spots we loved was the open air market.  In particular, we spent a good amount of time at one vendor's little spot-  The Savannah History Shoppe in booth 71 on the far end.
I don't know about you, but I hate touristy things that are manufactured in China and have no local flare.  What's unique about the Savannah History Shoppe is that all of the pieces- whether it's antique bottles melted into coasters, necklaces or handmade rings made from old buttons, all of it was unearthed in Savannah from the backyards, riverbeds or trash piles of Savannah's most historic homes.  That's right- when people threw away old broken china, it usually went in a giant heap at the end of the property- and that broken old china makes for gorgeous mosaic pieces and jewelry.
This husband and wife duo make jewelry and home goods from historic pieces. The husband scubas and digs for old bottles, bullets, china and other artifacts, and the wife finds creative ways to repurpose old pieces into wearables.  You literally can wear history, and they painstakingly research each piece so you can hear the history behind it.  You get a one-of-a-kind piece and you learn a ton just by browsing.  A must-see for sure!
Kitchens on the Square:
I had to highlight this store because I wanted to buy all of the things, especially the tea towels that I bought way too many of.  The owners of the shop also made these tea towels locally, but were just picked up nationally by Primitives by Kathy, and you can find their hilarious tea towels nationwide now (I just saw them in Columbus last weekend), but the whole store is pretty amazing.  Seriously if I could stock my entire life with the stuff from Kitchens on the Square, I would.
I did though, manage to walk away with some amazing tea towels (since I collect them everywhere I go now), and while I didn't get one that said Savannah on it, it was really awesome to have nationally available tea towels right from the source with local business owners/artists…so while my guests may not know my "Alcohol doesn't solve your problems, but neither does milk" totally kickass tea towels, I will know.  I also got this one- "If You Work Really Hard & Be Extremely Kind… Amazing Things Will Happen."  It made my  heart smile and went into my cart immediately.
Yes, Kitchens on the Square, if you need an ambassador, I'm your girl.  Like seriously, call me.
Someone tagged inspirational messages around town.  On this trip, I needed to read this. Savannah, I heart you.
Savannah Bee Company
Of course, one cannot simply walk into Savannah and not talk about the behemoth that is Savannah Bee Company.  For a brand geek like me, Savannah Bee Company has it all- great branding, gorgeous packaging, a strong storefront presence in both Savannah and Charleston and of course, really good products.  You can stop in to drop a paycheck on beauty supplies and noshables, but you can also sample their honey and enjoy some cheese and apples too.
One of my favorite thing about the Savannah locations (there's two I believe that both offer this), is the mead tastings.  Yes, mead.  I had a tasting when I was in Savannah last year, and though I was super disappointed they were temporarily out of the Star Thistle mead, the flight was still pretty good.  Mead is honey wine.  If you are in Savannah and you get ahold of that damn Star Thistle, please, I will pay you for a bottle- as it's available in Michigan but not in Chicago.  I may leave Chicago just on the premise that my favorite boozes are only available in the south (which also goes for Firefly, Goslings Rum and this mead).
If Kitchens on the Square doesn't need an ambassador, perhaps Savannah Bee Company will take me up on that offer…because, yes.
Savannah Taste Experience
I want to give serious kudos to the Savannah Taste Experience.  I have done plenty of food tours in my day (as my growing belly pudge would sadly indicate) and this was one of my favorites.  Perhaps it's the alcohol laws in Savannah, where every adult beverage can come with an optional to-go cup, or maybe it was the kind tour guide, or perhaps even the delicious cupcakes, but it was really a great experience….a taste experience. 
We had everything from shrimp and grits, she-crab soup and gator sliders.  All of those things, yes.  We also discovered Molly MacPherson's Scottish Pub (who knew Savannah had so many Scottish transplants?) and they had a full array of my favorite scotchy-scotch- MacAllan. The Macallan. OMG Macallan.  It has personal meaning from my Scottish roots, but seeing such a hearty display of my (pricey) faves, meant we had to go back again after the tour- muahaha.  I mean, do you SEE this layout??!
The Scottish bar was full of charm and the tour was lovely.  Savannah Taste Experience really does a good job of highlighting the best spots on the tour and we really enjoyed the guide and our fellow travelers.   Food tours are really a good way to see the city- you get to nosh on some yummy eats but you also learn about the history of a place and it's culinary traditions.  I'd much rather have a guide walk me through the best eats, then trying to spend hours researching it myself…it's just more fun to eat your way through history!
The Collins Quarter
The Collins Quarter Cafe Bar is a new establishment that I don't remember seeing last time I was in town- but the interior is stupid cute. We stopped in twice for some really yummy iced coffee mojito thingies (non-alcoholic but delicious), and enjoyed trouncing up and down the gorgeous, drippy-moss historic squares of Savannah.
Honestly, I could see myself- running my own little social media business, doing work in this coffee bar.  Sigh. If only I could afford a home within walking distance of this place, I'd be there in a heartbeat.
Bonaventure Dash Tours
I am really over the tours that fabricate ghost stories and try to play up the creepiness of historic locations to sell tickets.  I'm not into gimmicks, I'm into history, and to me, cemeteries are both gorgeous and fascinating places to experience history and learn.  I'm not looking for ghosts or horrible stories, I want to learn about the history of a place, and the way we bury our loved ones helps tell that story.
Dash Tours was aptly named to tell the story of that little dash in between the year we are born and the year we die.  Unlike other tours that focus on the gory and sad ways people meet their demise, Dash Tours is run by a man with deep roots in Savannah history and wants to tell as many stories about that little dash, not just the end date on a person's life. I really admired our guide and absolutely loved the hours we spent meandering amongst the gravestones.
The stones were beautiful, but so were the stories.  Years of civil war, plagues, civil changes and cultural practices have formed more than just rows of headstones and breathtaking marble statues, there is much to learn about the people who lived in Savannah, the thought and preparations put forth towards their final resting place and the artistry behind the plots is quite stunning.
If you're over gimmicky tours like I am, and simply want to follow a passionate local guide with some captivating stories on the local and verifiable history of the area, this is something you need to sign up for.  The Bonaventure Dash Tour Bus (used for the tour) picked us up from our hotel and dropped us off wherever we wanted, so it made this trip totally friendly for out of towners without a car.
We stayed at the Thunderbird Inn while in town- check it out, it's an adorable throwback to the fun 50's motor lodges!

Honestly, there were other spots I enjoyed and wished I could highlight on this post, but since it's already pretty darn picture heavy, I guess I'll have to plan a trip back for more.  If there was ever a city I felt a pull towards, it has always been, and still remains to be, Savannah.   We enjoyed our time sightseeing in Savannah tremendously and I really had to ponder if this would be the next place to live to put down some roots, it was just that special.
Huge thanks to all of the local businesses for facilitating us as travel writers- in allowing us to ask lots of questions, take extra pictures, or providing media rates when possible to help us keep costs down. Southern hospitality at its finest!