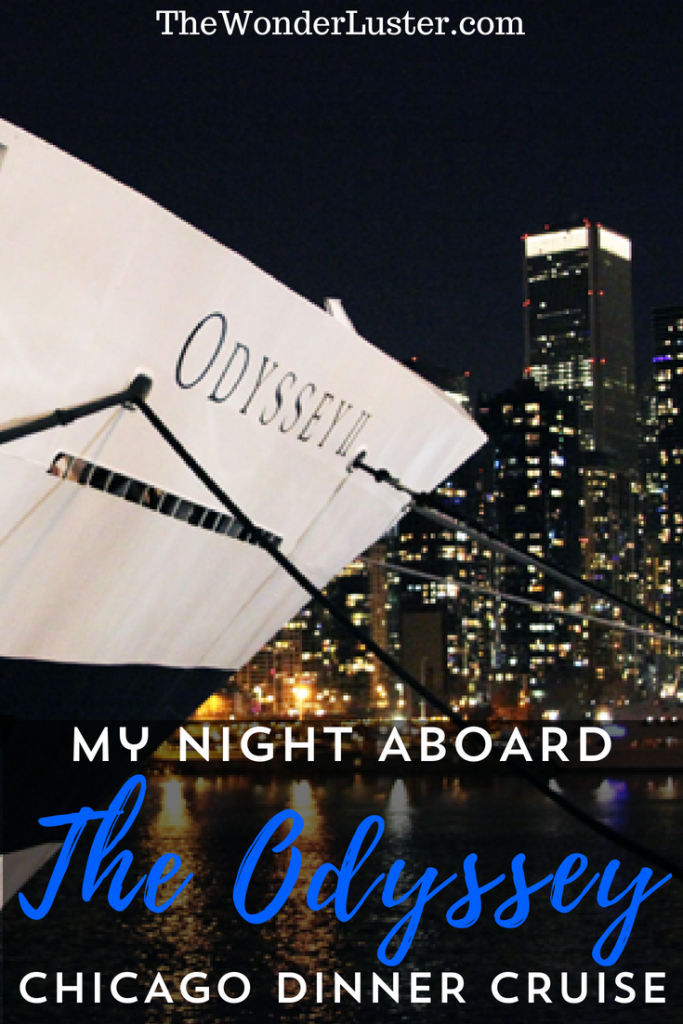 There are times when it's totally called for to pull out all the stops and sign yourself up for something amazing and worth celebrating.  I have had quite a lackluster history when it comes to celebrating New Year's Eve in Chicago.  Too many times I've been frustrated with overpriced bar packages with watered down drinks and long lines to the restroom and overcrowded dance clubs that are so oversold, you literally don't have enough room to dance past 10:30.
This year, I decided enough was enough and wanted to give something new a try…a sit down type affair that would guarantee me enough room to hold a fork, eat some good food and not have to wait in long lines for those unicorn type "all you can drink (if you can actually reach a bartender)" NYE shindigs.  I reached out to Entertainment Cruises since I had read some good things about their various cruise packages and wanted to try and redeem my New Year's Eve in Chicago.
We boarded the Odyssey at 8:30 and cruised until 1:30am and I can tell you, it was such a fun evening that midnight snuck up on us.  I got to sit next to a couple who later got engaged, and we shared champagne.   We had several courses- delicious seafood appetizers, salad, steak and lobster, and an array of delicious desserts at the dessert bar.  Also, did I mention there was champagne? Yes. Yes there was.
The DJ did a great job of keeping everyone dancing throughout the evening, and yes, there was plenty of room to bust a move (which, as mentioned has not been the case on other venues in the past, I was happy).  Our server, was fantastic and brought drinks to our table, (woo, no lines) though other people did saunter up to the bar from time to time.
The energy of the evening was great and the service was impeccable.  If you've partied in a big city on a crazy night like NYE, you know what a struggle it can be when you're fighting crowds to get served or find a place to hang out and enjoy a drink.  The ship allowed us plenty of breathing room to dance, dine, drink and the atmosphere was energetic but still allowed for great conversation while noshing on some delicious food.
At midnight, we were all invited to the top deck of the ship and given noisemakers and hot cocoa to ring in the new year and watch the fireworks.  I think there must have been 3 or 4 proposals while we were up there- it was the perfect spot and the perfect time to start your life together- cruising along the Chicago skyline, during fireworks on NYE…. seriously, what an unforgettable night!
Everyone was given an adorable bag of "Midnight Kisses" and hot cocoa- every detail was planned and it was a seamless evening from start to finish.  I can honestly say it was one of the best evenings I've had in Chicago in a LONG time.
Literally, everything was taken care of on the cruise.  From our drinks which were consistently topped off, to the restroom which had no lines (which we ladies can appreciate), the staff were all so helpful and timed the courses really well.  Additionally, before the cruise, the team sent out an email to all attendees to help us be sure we knew exactly what to expect and how to ensure we found a cab on a very high volume evening on the way home.
 Thank you to Odyssey Chicago for having me aboard your vessel for an amazing start to 2015!  I will be back!