It's currently over 100 degrees in Texas and it's only June. If you're trying to beat the summer heat and looking for family friendly things to do in Texas, your first thought goes to the water. Unfortunately, if you're the parent to fair-skinned children who don't like to sit still, you also know the battle that is sunscreen and its constant reapplication for outdoor play.  Enter, Kalahari Resorts Round Rock, Texas. 
Here, you will find an all-in-one vacation spot that includes and indoor water park for those of us who want to avoid spicy runs around the hot pavement for sunscreen reapplication.  When a friend pitched the idea of driving up to Round Rock to visit Kalahari Resorts, I was sold. Not only would it mean all of our activities were on-site, but it also meant we could avoid turning red like our last trip to the water park.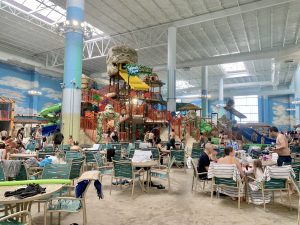 What's Included In Your Booking At Kalahari Resort Round Rock
When you book your room at Kalahari Resorts in Round Rock, you'll need to select how many people are staying in your room.  Doing so allows you to get wrist bands which serve as your room keys and access to the included amenities.
Free parking (valet is optional)
Included indoor waterpark admission from 10a on check-in day to close of park the day you check out. (Valued at $100 per person, prices vary)
Included Tom Foolery's arcade admission (though the arcade plays are on you!)
Lifejackets for kids of all sizes at all major play areas in the waterpark
Access to the gym and hotel pools
Free cabana style towels to check in and out daily
Fire pits, live music and local vendors for shopping- including farmer's markets on select days
Additional Information  & Amenities
Military and service member discounts
Disabled veteran parking is available
Pets are not allowed, unless designated as service animals
Pack & plays are available for $25 per night
Disability friendly rooms are available*
Adaptive swings & wheelchair transfers are available for kids with special needs or wheelchairs*
Book early (at least 30 days in advance) and save up to 25% off your stay
Water activities are suitable for adults, teens and infants
*If you're a family traveling with special needs, check out this great video review with considerations for those with special needs around Autism from A.Typical.Family.
The Resort & Rooms
Overall, the hotel itself was impressive.  We arrived at about 10:30am and quickly checked in, and were offered our rooms early so we could get changed and enjoy the waterparks. Fortunately, even if you're unable to snag a room, there are plenty of changing areas for families if you room isn't ready before your check-in time.
Upon first driving up, you'll be greeted with some impressive water features and a herd of elephant statues which make the walk back from free parking a bit more fun. You'll find plenty of photo ops from the time you park to when you arrive in the beautiful main lobby.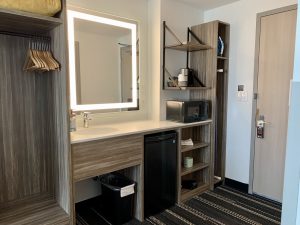 Our rooms were super clean and included plenty of towels, a coffee maker, fridge and convertible pull-out couch.  Since this is a family-friendly resort, I will also say the rooms are pretty sound proof too, we had no trouble getting to sleep even with the amount of people checked in near us. 

Would We Stay At Kalahari Resorts Round Rock Again? 
Yes. Here's Why:
Everything Is On Site & Easy To Plan
Kalahari offered us a quick weekend getaway that involved little planning and zero stress for our busy gang.  I'm about 8 months pregnant and loved that I didn't have to waddle too far to keep up with our kids and keep them entertained.
Plus, I could enjoy ample non-alcoholic options, including non-alcoholic beer from Athletic Brewing (my fave!) while my kids played.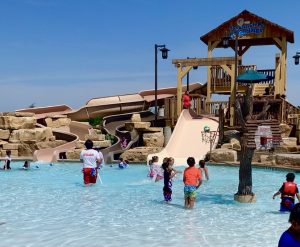 All-Ages Activities For Blended Families
The included indoor water park had something everyone could enjoy.  Slides for the big kids, a lazy river and pool for my pregnant self, and two sizeable areas that were baby friendly and geared for littles even as young as a few months old. 
Our 10 month old had a blast at the water tables and I could easily sit with him without getting bowled over by tweens.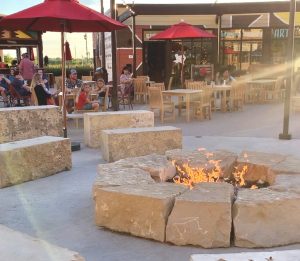 Live music, farmer's market and plenty of food options for a chill night after a day of play
Ways To Save At Kalahari Resorts Round Rock
The resort offers a military/service member discount and if you book over 30 days out you can save a bit more than on a last minute reservation.  While you might find that the food is pricey, there are lots off off-site options in Round Rock to suit your budget. Get on the mailing list as the resort regularly sends out discount codes.For us, the sheer number of things to do meant we could enjoy for the full days on check-in and check-out it helped us get more value out of the experience.  During your stay you can enjoy live music and fire pit, included (and free) kids activities, a live DJ and bubbles at the outdoor resort pool and included water park.
If you're going all out, you can also choose from an ample set of pay to play activities like bowling, an escape room, arcade and on-site dining. 
(If you're looking for more ways to save on travel, read my other blog posts, I've got lots of tips so you know when to spend or splurge!)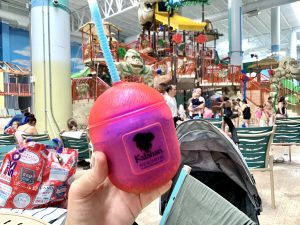 Overall, we enjoyed our stay at Kalahari Resorts Round Rock Texas!  We loved that we could utilize the indoor water park and resort pools for two days even though we only were able to stay one night.  We had plenty to do all weekend that was age appropriate for both 8 year olds and 10 month olds, and my pregnant self. 
When we're able to head back, I'd love to check out their spa services and ample bars around the resort when I'm not expecting!