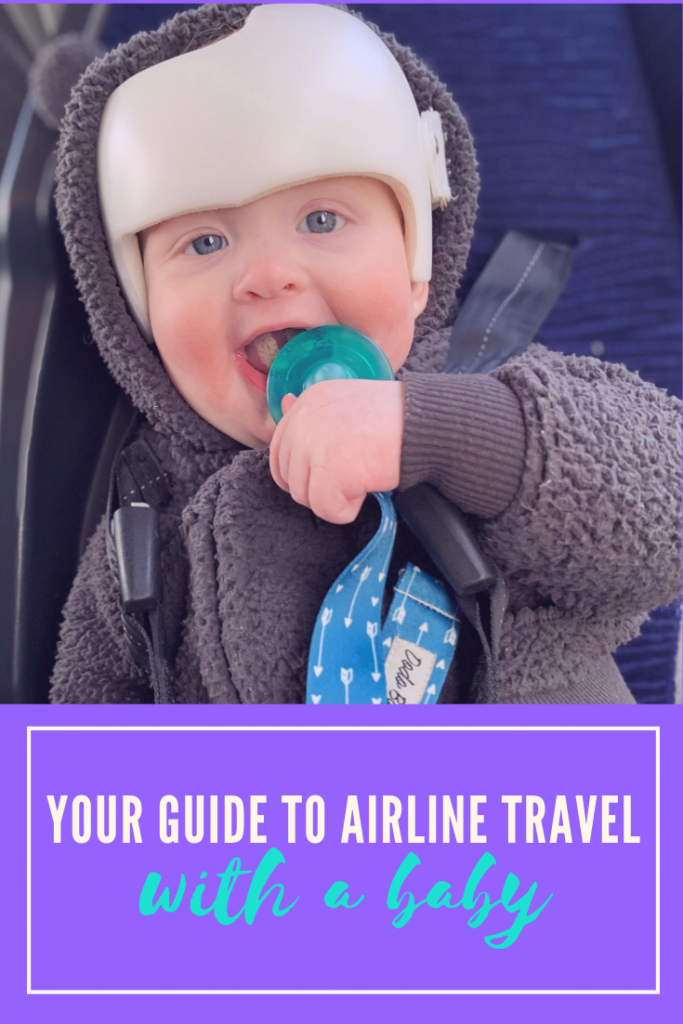 Welcoming a little one was a happy chapter for our family, but as new parents we worried about flying with a baby.  We knew hopping on a plane would be necessary for visiting certain relatives and we didn't want to give up travel for the next decade.
If you're new to traveling with an infant, it can seem overwhelming to navigate the process your first time out.
If you're flying with a baby, we've got some tips for you that can help reduce your travel anxiety. Before you take your next trip and are traveling with an infant, our biggest advice is to prepare for a few process changes when it comes to travel.
It's not quite the same to travel as your pre-baby days, but with planning it can be done relatively smoothly!
What To Know Before You Book
One of the best perks of flying with an infant is that it's cheap or even free. If your child is under two years old, you likely can get them onboard for free as long as they're sitting in your lap.
We've travelled both domestically in the U.S. and internationally with our baby- both at 8 weeks and 8 months old.  Honestly, it was easier than I thought, and most fellow passengers are understanding if not accommodating..  If possible, we recommend booking a direct flight, or with as few layovers as you can afford.
Overall, expect that your check-in process will be a bit more complicated and time consuming than before. You'll need to provide extra time to find where and how to feed and change your baby. Apparently, it's frowned upon to simply splay your baby out on the boarding area seats for a quick diaper change, ha!
How Young Is Too Young For Your Baby To Fly?
Some airlines, like Southwest, require infants to be at least two weeks old. If you're traveling with Delta, if you baby is under 7 days old, you'll need a doctor's note to fly. So be sure to check before you book if you're needing to fly shortly after your baby is born.
Beyond airline rules, when will you be comfortable toting an infant across country or across the world? For us, we wanted our little to meet his grandpa and had travel vouchers from the start of the pandemic to use.  We took our first flight with our infant from Texas to California when he was just 8 weeks old. I was a bit slower from my c-section and had just decided to switch to exclusive formula feeding after weeks of struggle. For us, a trip was just what we needed. But, if it seems too much for you, flying with a baby can wait!
Make Sure You Have Proper Documentation
If your child is under two years old, most airlines will allow your baby to travel for free by sitting on your lap.  It's very important to note, that if you do choose to have your child in your lap, some airlines will require proof of age to ensure they're under two years old.  Our 8 week old was very clearly under the age limit, but we were asked to present proof upon check-in.
If your baby hasn't received their birth certificate, you'll need to have some proof of age.  If you're flying before the birth certificate has arrived, bring whatever documentation the hospital provided. For us in Texas, we received a "Birth Facts" document at the hospital that worked fine at the airport, but if you're unsure, call ahead.
If you're flying with a baby on an international flight, a passport will be required.  As of 2022, we paid extra for the expedited service and our baby's passport arrived in under 8 weeks.  Both biological parents (or guardians) will need to be present to apply for the passport.  Additionally, infant passport photos can be done at your local pharmacy. We got our baby's photos done an hour ahead of our passport appointment at a CVS near our City Hall.
Car Seat or No? Know Before You Book
Before you book your flight, you'll want to give some consideration if a car seat will be needed.  For the flight itself, some parents love the idea of a baby being safely nestled in a car seat for takeoff and landing.  If this is you, you'll need to book the baby their own seat.
If you're like us, and you'll only be needing a car seat for after you arrive at your destination, forgo the car seat on flight. Doing so will save some money.  You can either check your car seat with your luggage, or at the gate.  Your car seat will not count against your checked baggage limits on most airlines. So, another perk of flying with a baby!
If you're not using a car or airport shuttle van during your travels, you can leave the car seat at home. Investing in an umbrella stroller will make gate checking much easier than a bulky travel system.  We've done both, and when we aren't traveling with a car seat, we just use our lightest stroller possible.
Booking Your Flight
First, you'll want to decide where you want baby to sit when you fly.  You can decide if you want your infant to be sitting on your lap, or if everyone would be more comfortable having them nestled in a car seat.  Be advised, most airlines will allow babies under a certain age to fly free if seated in a lap, but will charge you for a ticket if they need their own seat to strap a car seat in.
If you've decided to forgo a separate seat and want your little to be seated on your lap for free, the airline will still need to know ahead of time.  While you may not need to pay for the child, you will need to ensure they're on your reservation and likely will be issued a ticket. Some airlines will allow you to add your baby to the reservation upon booking with their own free ticket. Others will ask that you call to update your reservation separately, and will simply be tacked on to one of the adult tickets.
Special Note:  If you don't see your child's name somewhere on your reservation, please call to ensure they're properly added! Everyone boarding a plane will need to be vouched for, per TSA regulations. Avoid stress at the airport by calling ahead.
Ticket Costs For An Infant In Lap
So how much does it cost to fly with an infant?  If your child is under 2 years old, it can depend. Usually, for many domestic flights within the U.S., your child flies free. For international flights, you may be charged around 10% of the adult ticket price, even if the child is in your lap.
Here are the costs to fly with baby in lap as of 2022:
American Airlines: No fee for flying with a baby under 2, on all domestic flights. Proof may be required. 10% of an adult fare plus taxes for international flights (Full American Airlines policy here.)
British Airways:  Babies in lap under 2 will be charged 10% of the adult fare.  (Read British Airways full policy here.)
Delta Airlines: No fee for flying with a baby under 2 on all domestic flights.  10% of adult fare plus taxes for international flights. (Read Delta's full policy here.)
Hawaiian Airlines: No fee for flying with a baby under 2, on all domestic flights to neighbor islands and North America.  (Read Hawaiian's full policy here.)
JetBlue Airlines: No fee for flying with a baby under 2, on all domestic flights.  Depending on country of origin, you may be charged a variable infant fee.  (Read JetBlue full policy here.)
Southwest Airlines: No fee for flying with a baby under 2, on all domestic flights.  Taxes and fees will be collected for international flights. (Read Southwest's full policy here.)
Spirit Airlines: No fee for flying with a baby under 2.  (Read Spirit's full policy here.)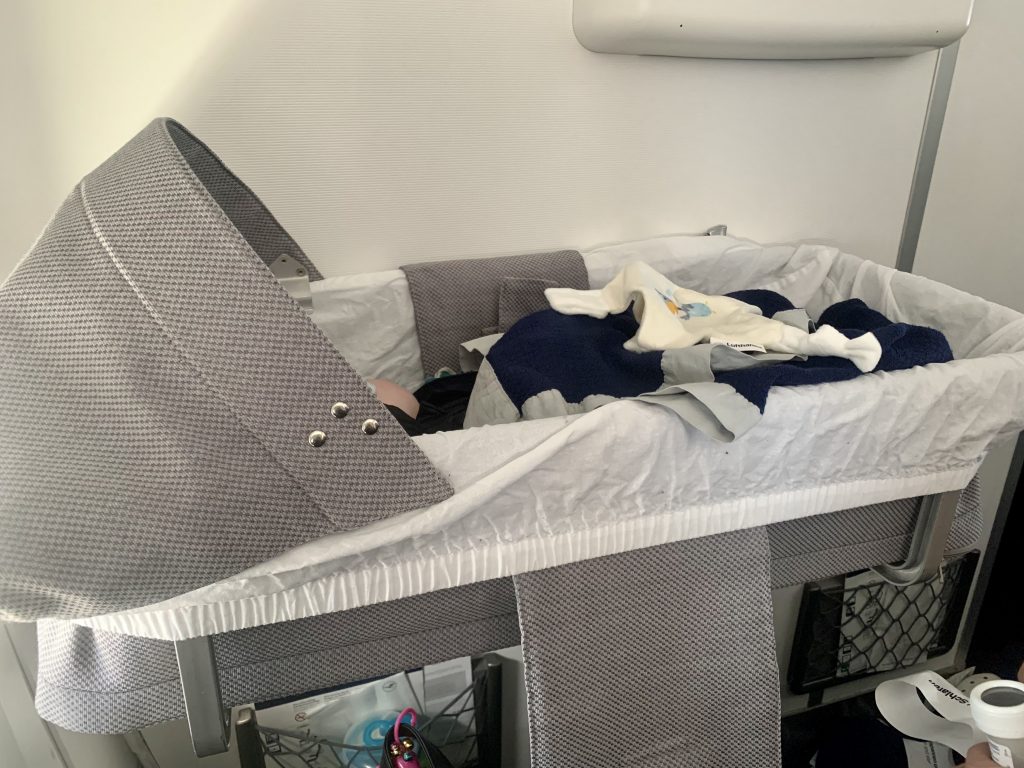 Super Special Airline Baby Travel Tip- Rent a Bassinet!
If you're going for a long flight (5+ hours) we'd recommend inquiring if a bassinet is available to upgrade your seat. Bassinets can be strapped in front of certain seats at the bulkhead so your baby can rest for longer stretches.
On our international flights to and from Norway, we rented a bassinet on United and Lufthansa airlines. We enjoyed our in-flight meal as our little bundle took a long nap and gave us a bit more breathing room.  Bassinets may cost extra, as they can sometimes require a reassignment of seats if you're flying economy. While United was free, Lufthansa charged us $80 to add this feature.  Worth it? For us, it absolutely was!
Handling Airport Security with a Baby
Two of the most troublesome additions when you're flying with a baby are dealing with the addition of a stroller and baby's liquid food.  Before you arrive at the airport, have a plan.  Decide what to do with your stroller, whether you check it at baggage counter or the gate.  Additionally, you'll need to get through security with formula or baby food.
Feeding Your Baby
Baby food, breast milk and formula (pre-mixed or powder form) is considered a medical necessity by the TSA. So, it is not subject to the same ounce limitations as regular beverages and toiletries.  The TSA doesn't list any measurement limitations on their sites, but instead cites that bringing a "reasonable amount" is fine.
For us, we've flown with several small bottles of pureed baby food, as well as the pre-mixed bottles of formula. Your TSA agent will likely test the bottles, but it often only adds a few extra moments to your security check.
We also bring enough empty, sterilized bottles in our carry-on to fill with formula before, during and after our flight.  We've used water from our in-flight service and from drinking fountains.  If you need to heat your formula or food, some airports may have a microwave in a convenience store. We've also lucked out and found them in specially designated baby care areas along with a private breastfeeding recliner and changing tables.
Honestly though, we wouldn't rely on each airport having more than a changing table in bathrooms.  You can always grab hot water from a coffee stand for formula, and we would always have a contingency plan for nursing if you feel the need to do so in a quiet place.
Baby Strollers
Each time we've flown, it's been easier to keep a stroller with us, and check it with a stroller bag at the gate.  Usually, you'll be allowed to board early for family boarding.  You'll have a minute or two to fold the stroller and leave it outside the plane before you board.  If you don't have a stroller bag, it's not absolutely necessary, but can great to have.  We purchased ours from Southwest Airlines upon check-in for $17.
No matter what you choose to do with your stroller, it will not be counted against your baggage allowance. If you keep baby in their stroller through security, you'll be asked to remove your infant from the stroller.  An adult will walk through a metal detector with baby in-hand.
Making Downtime at the Airport Easier
If you're used to jet-setting before baby, allow yourself more time when flying with a baby.  You will not only move slower, but you'll want extra time for feeding, diaper changes and hopefully, a nap.  Not every airport has a designated baby area, but some do and they're great!
If you're breastfeeding, you may be able to find a designated breastfeeding suite or pod.  They're usually at larger airports, but more regional airports are adding them. That being said- if you'd prefer a pod versus whipping out a breast in the general seating area, having extra time is key.  Finding a pod, and lugging your little one to it- especially in a larger airport can take time.
If you're using bottles and formula like we do, we simplified the process by having two bags ready. One ziplock bag was prepped with empty bottles and one ziplock bag for used bottles. We'd fill bottles from our reusable water bottle or from a drinking fountain.  You may be able to track down a microwave or hot water to mix with cool water by hitting up a Starbucks. Don't be shy to ask for a free cup!
Surviving Your Flight With Baby
The flight itself caused me the most anxiety. I was terrified my baby would cry and everyone would hate us on the flight. No matter what you do, your baby may cry and honestly, that's okay.  It's life. Take a deep breath.  I recall my days before baby, I came prepared with a set of headphones and if I forgot them, that was on me.
That being said, if you're still anxious about flying with a baby here are my best tips:
If your baby is flying with baby in your lap, consider wearing them during the flight to help them sleep
Nursing during takeoff and landing can help baby's ears adjust so they're not in pain (and thus, crying.)
Bring along age appropriate distractions.  Babies over 6 months may need their favorite toys to help soothe.
Everything you need for baby should slide under your seat. It's easier to grab diapers in-flight & overhead bins near you aren't guaranteed.
While we nearly missed a few flights due to some tight connections and fell, exacerbated into our seats- we were usually met with sympathetic travelers and flight attendants who had been in our shoes. Overall, as long as you have bottles handy and love to snuggle your bundle of joy, you'll be fine. We've had two trips, and four flights with a baby- all have been fine!
Our goal with this blog is to help parents who don't want to put their dreams on hold until their kids are grown, so we hope this has helped!