This post may contain affiliate links. Read my Disclosure Policy.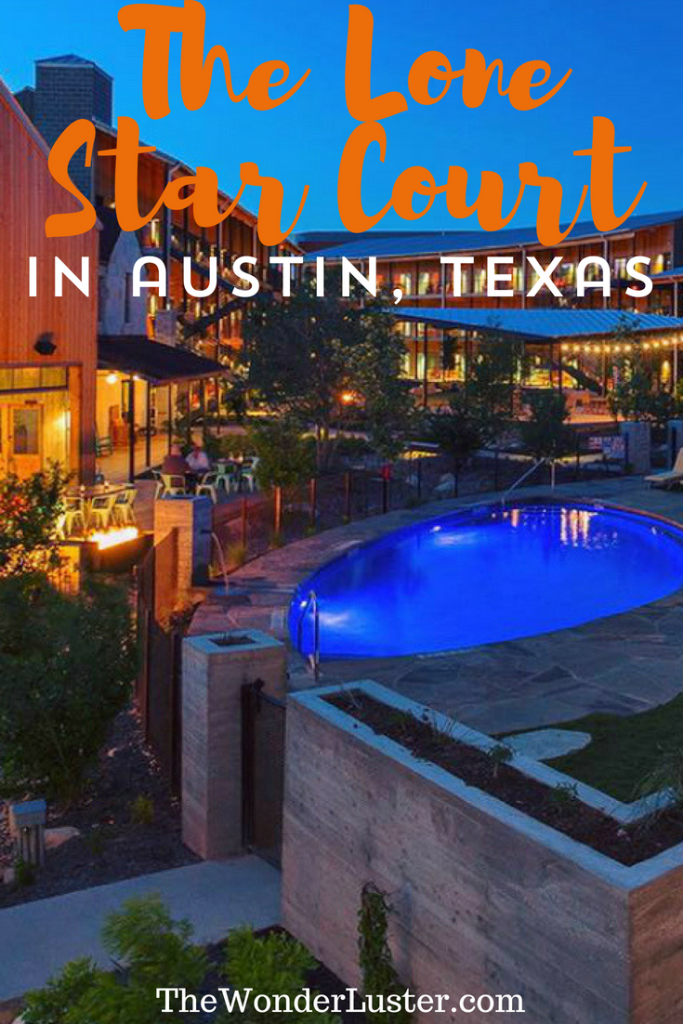 Do you have a favorite hotel? One that you'd seriously go to again and again, even if you lived a block away?  Everything about our stay at the Lone Star Court just around Austin, Texas- made me feel that way.  This is a charming boutique hotel that ties in old school nostalgia with southern comfort and modern sophistication.
The hotel itself is colorful and inviting- there are countless places to sit and stay awhile in orange rocking chairs, or grab a drink and sit in a beautiful mint chair by the pool, or lounge in the bright yellow canvas chairs by the fire pit.  There are plenty of places to curl up with a good book and lounge awhile- and you'll never be too hot or too cold anywhere you go- with a fun pool and fire pits nearby in the common area.
Everywhere you look, there's color. I'm not sure who designed this hotel, but the aesthetic was exactly what I'd want at home if I lived in Austin.  It's inviting, comfortable and a bit nostalgic while still being modernly functional.
There was just something about the place that made me want to stay awhile and put down roots.  On my list of dream home musts- I've now added a fire pit and a few good rocking chairs.
While the hotel itself is a bit of a trek- about a 20 minute drive from downtown Austin, it was worth the journey.  The Lone Star Court is right next to a really nice shopping center with some great restaurants and a quick jaunt over to the Puzzle Room Austin– which is a really fun way to spend a few hours.  You'll find that this hotel is a great retreat to relax, unwind and get your spark back.
If I have any writing retreats to do- I could imagine been happily holled up here to get some work done.  Everything you could possibly need is available in the room..snacks, an adorable throwback mint fridge full of beverages.  Even the complimentary coffee in the room was awesome- it was a local blend featuring, you guessed it- bats on the packaging. (If you didn't know that Austin is home to an awesome bat colony, I hope you'll go check it out!)
Of course, they even featured leather branded coasters and adorable throwback (in that pretty blue color) mason jars.
We had a blast at the Lone Star Court.  Honestly, I want them to come and decorate when I get my first home!  Honestly, after two weeks of travel, it was nice to have two days to rest and catch up- with no touristy things to do, no place to rush and nothing on the agenda.  In terms of life and business, I wanted to get my spark back- I had been feeling a bit run down and lost, trying to figure out a plan I was happy with after being laid off in late spring.
Traveling always seems to help me get back on track, but first, it has to tire me out.  I was pretty tired when we arrived at Lone Star, and left really excited to head to New Orleans and wrap up nearly 3 weeks of constant travel.  Honestly, it was an impactful two days, and since my dad is kind of obsessed with Austin at the moment (so am I), I bought him a Lone Star Court shirt to mail out…that man is so hard to shop for!
With a little bit of rest, and a bottle of wine, I felt ready to tackle the last bit of travel- but also gain some clarity about where to go next with my life and business.  It was a great way to wrap up my time in Austin, and I was already missing it before we got to the airport to head to our next destination.
Lone Star Court is now one of my favorite hotels- if you're in Austin, you have to come stay for a few nights and sit by the fire pits for me!  Starting at $163 a night, you'll love it as much as I did for being on budget but really a great place to sit and stay while.
Thank you to Lone Star Court for having us as media guests and allowing us to do this review!  We loved your hotel, thanks for having us!